What is RIGIMAP ?
Blender add-on RIGIMAP allow you to use motion capture data on Rigify rig very easily. Most existing solution need many operations for mapping motion capture data to each bone of your rig. RIGIMAP make it a piece of cake for rigify users.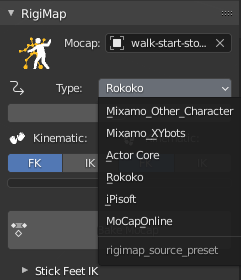 What is Rigify?
Rigify is a very powerful pre-installed Blender add-on. You just have to enable it in the add-on section. This add-on allow you to rig human, bird, quadruped and create any custom rig. Very efficient for character animation, very easy to use. We have done a video to show you the use of this blender feature. Check on the internet for longer tutorial.
How it works?
RIGIMAP let you choose between several motion capture standards format. Import a motion data in your scene. Select the appropriate motion data format in the add-on, then use the plug button. Done. You can easily edit the animation by adjusting bones rotation. You can even animate bone rotation, like on a layered animation system! Then you can bake it to key frame. The motion capture animation simply turns to a rigify action. You can use it without need of the add-on once baked. IK and FK are baked so you can use both of it.
Features
- Many motion capture format compatibility: mixamo, actorcore, rokoko, ipisoft, mocaponline (ask us for more!)
- Never been easier: 2 buttons (select, plug)
- Advanced motion edition, over animation
- Snap IK to the mocap option
- Bake Ik and FK, so you can use both solution once key framed