Overview
Map objects onto another object using its active UV coordinates.
Simple example of a torus being painted onto a cube.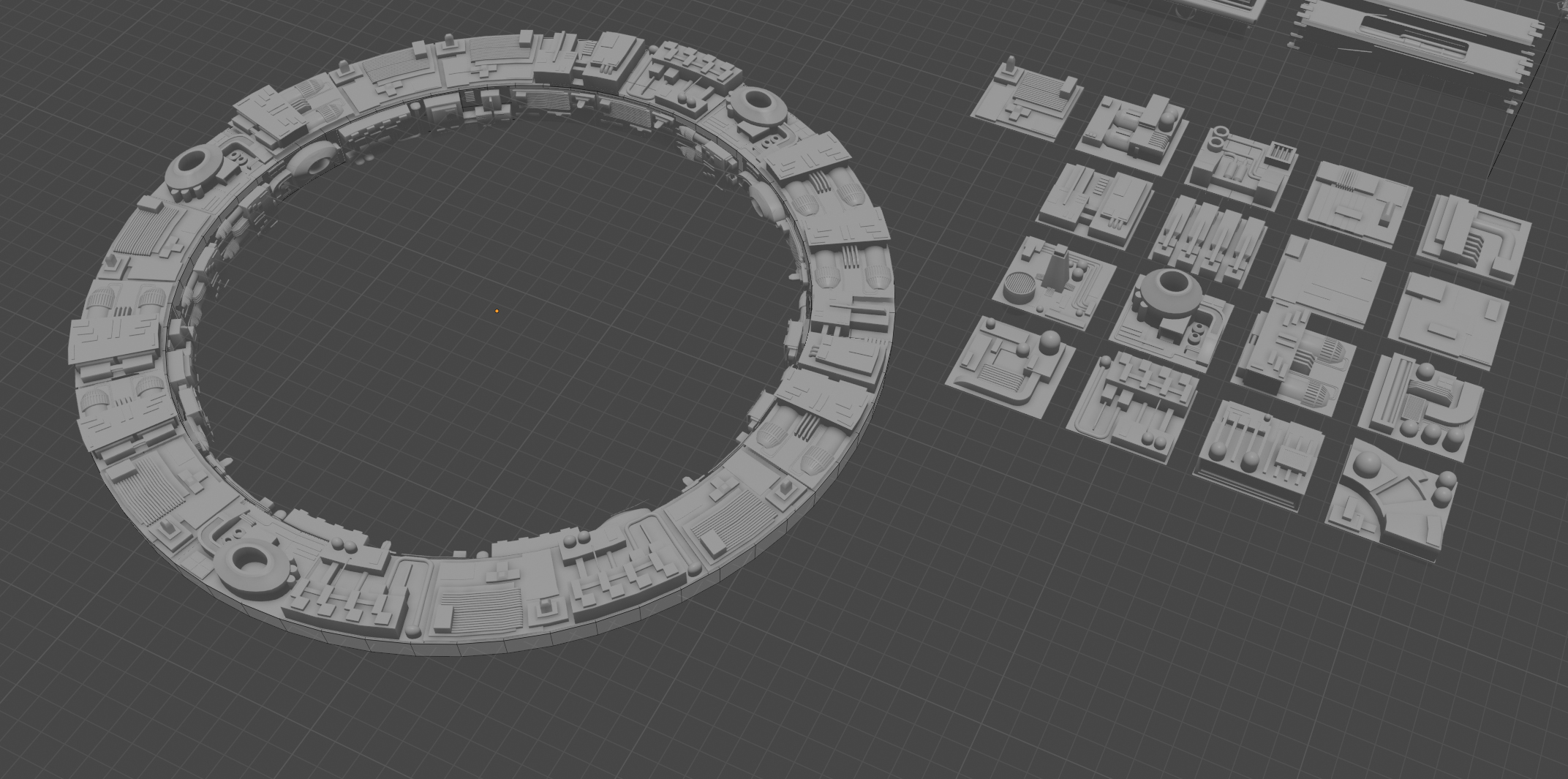 The add-on being used to apply a Greeble pack by MarkOm3D to a circular tube. 
An object created with the Shape Generator is painted with simple flat objects 
Can be fitted around surfaces to add complex detail. 
Blender's material displacement features can be powerful, but they have the following drawbacks:
The base mesh has to be highly subdivided.
It can be difficult to generate a resulting object that can be edited or exported.
Standard displacement uses height maps, so it can be difficult to create objects that have features that turn in on themselves, like piping.
The Mesh Materializer has been created to help you address these problems.
Features
Apply source objects onto a target object either by face or whole object selection, or an optional paint mode. A new object is then created.
Source object UVs and materials are transferred to the newly created object.
Newly created object can be added to again and again.
Remove parts of the created object with a delete mode.
Clean up tools are then available for the created object, such as:

Dissolve cuts made by the target object.
Removing unwanted sliced objects.
Filling holes made by the cuts.
Dissolve Cuts. Here the tool is used for retoplogy purposes.
Credit: @AversionReality 
Add multiple source objects to create random checker or brick patterns.
Control object offset, scale and rotation.
Randomize object offset scale and rotation.
Optionally maintain the proportions of the original object.
Align a source object to either the target object's normals or a custom normal. Useful for mapping trees.
Automatic addition of an Edge Split modifier that can help tidy the resulting mesh.
Mesh created is a standard Blender object that can be edited or exported afterwards.
Potential retopology use by mapping a flat plane onto a target object.
Potential use of applying object decals.
Sample files shown here are included.
A greebled plane is applied to a simple object made by the Shape Generator 
A plane with a plating effect is applied to a simple pipe. 
A spiral being applied to a sphere. Credit: Veleta Studio Lab 
A sphere that has been mapped onto a Torus Knot with UV coordinates 
Any Questions?
This is a relatively new tool so please let me know if you are having any major issues with it.  Please note some of the performance issues in the FAQ.
Do not hesitate to get in touch with me if you have a question, a new feature suggestion, or an image you'd like to share.  You can contact me through this website or by my Twitter page.
You may also like...