WHAT'S INSIDE ?
An easy-to-use shader for Blender Cycles and Eevee that will bring your models to life!

Includes the Teapot scene, Studio Setup and most importantly, the Clay Do'h shader.


One node to rule them all, create all kinds of clay in no time. :)

Clay D'oh uses Principled BSDF shader, allowing flexible workflow and physically correct shading.
This ensures that the assets will look great in any kind of lighting. :)
CUSTOMIZE EASILY

NO UV UNWRAPPING NEEDED

SUPPORTS EEVEE

FREE UPDATES FOR LIFE!
Update 1.1 (November 8, 2018)
Eevee support, works real-time now

Optimized for faster performance

Separate sliders for stones and fingerprints

Improved texture mapping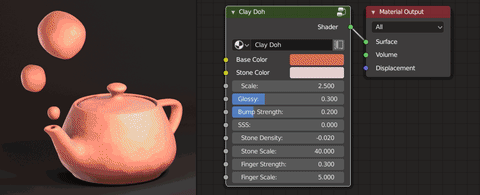 (sorry for the gif quality, it had to be compressed)
Next updates :
More geometry features like 'Pointiness' being added

Bug fixes, recommendations by you folks
With your help and feedback, I hope to keep on improving this shader :)
You can import this material in your scene by going to File>Append and then selecting the material from the downloaded .blend file. Simple, right?

Hope it help make your models look even more epic, I would love to see your projects!
Have fun and keep blending. :)
My Blender version doesn't have Eevee, what should I do?
Is this compatible with Cycles and/or Eevee ?
Yes, Clay D'oh is is compatible with both Cycles and Eevee rendering engines.
The textures look weird (stretched or squished) on my model, what should I do?
You need to apply scale.
Select model. Hit 'Ctrl+A'. Select 'Scale'.
Do I need to UV unwrap my models to use this shader?
No, the shader uses 'object' texture coordinates, thus, you need not worry about UVs.
Is the teapot scene included in the .blend file?
Yes, with the studio setup. :)
Is this a procedural shader?
Yes, mostly. Everything except the fingerprints is procedural.
Purchase this item to leave a review!