Need to rig characters quickly while aiming for feature film quality ?
Auto-Rig Pro offers a proven workflow, targetting movie production while providing Unity and Unreal Engine support.
First developped for my personal usage, I'm glad to publish it on the Blender Market.
Before rating it: if you encounter any bugs please report it. Sometime a new Blender version makes something buggy, or some special cases may be hard to predict, we're just humans! So please report it, and be assured you'll receive support/bugfix quickly. Updates are free and will remain free. Thanks for your understanding. Also make sure to read the FAQ and the documentation.
Rig fast with the Smart feature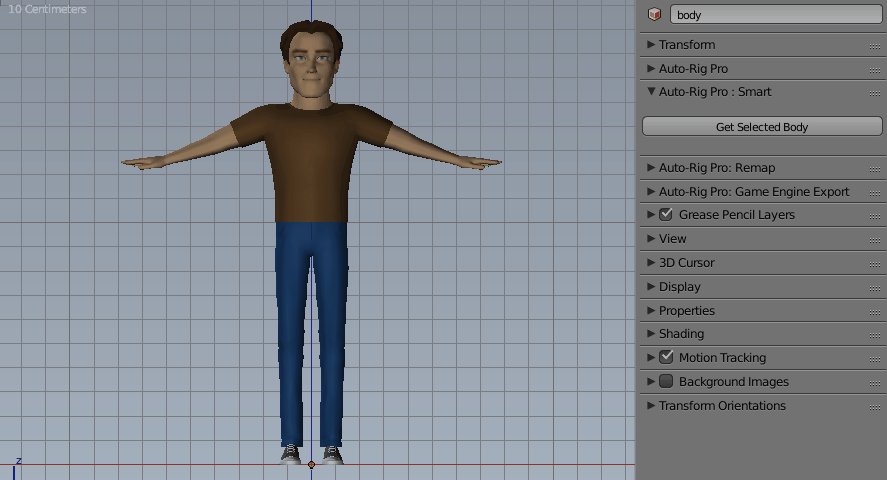 Position the reference bones so that they match your character proportions. To speed up this process, the smart tool will automatically try to find the body parts locations for you (bipeds only so far). Then, edit the result if needed (if your character is not a biped/ or for more accuracy), eventually place the facial bones and other extra limbs, and generate the final rig. The armature remains easily editable anytime after the generation. Check the product documentation and the youtube channel for more informations.
Plays fast, 25fps on these characters (using standard hardware): Anna, Kevin
Modular
Customize the rig definition in a few clicks: fingers, toes amount, spine bones, tail, breasts, ears, duplicate or remove limbs to rig spiders, centaurs, or whatever!
Video tutorial, rig a centaur with the multi-limb feature: Centaur Rig
The picker panel dynamically updates, so you can select any bone from the separate panel easily.
Intuitive tool to edit the bone shapes:
Customize the colors: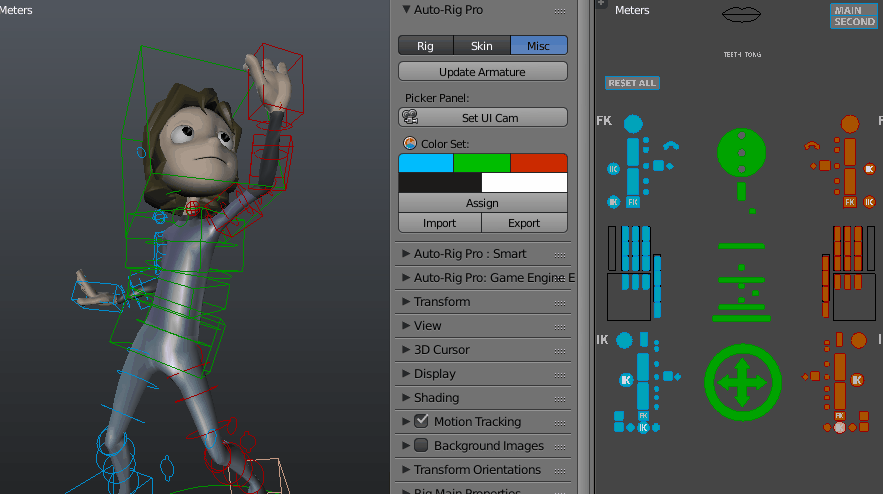 Remap
The Remap feature allows retargetting of any armature action to another one, with different bone names and bone orientations, supporting Mixamo BVH files for example. Define the source armature, the target armature, and the animation will retarget according to the bones names match and bones original orientation.
It support IK feet, hands for accurate motion tracking, and an interactive offset tool to remap to different characters proportions.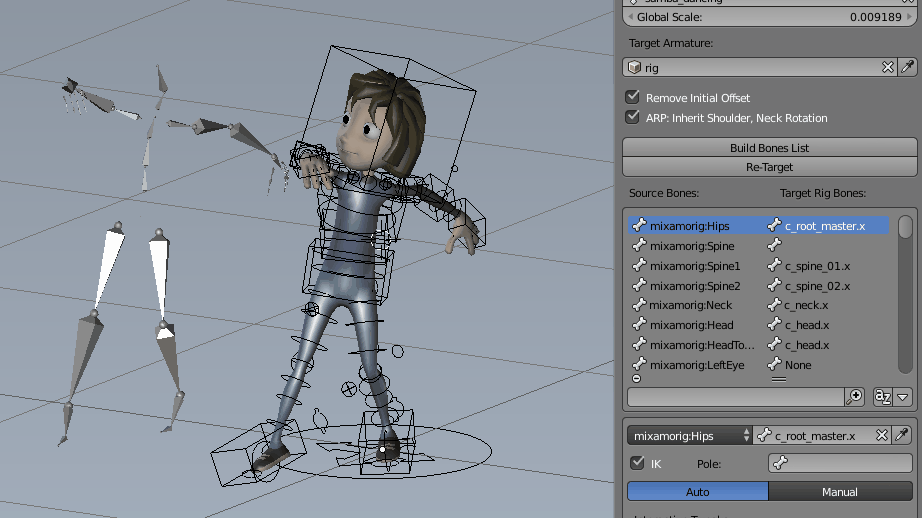 Game Engine Export
Auto-Rig Pro allows export to FBX format via a dedicated module, making possible to use the rigged avatar in Unity or Unreal Engine. Shape keys are transferred as well. Two export types are supported: generic to export any characters and creatures, or humanoid to keep a human bone hierarchy, allowing animation retargetting inside game engines. The bend bones and full facial rig are now exportable along both types.
Tell Me More!
Extensive list of what's in the box:
Automatic bone placement solver based on mesh recognition for bipeds character
Edit Reference Bones feature to modify the rig anytime you want. No need to redo everything if a bone is not where you want it to be.
Modular: only use what you need. Choose the number of fingers, toes, add optional tail, ears, breasts. Duplicate or remove limbs to rig multi-peds creatures.
Easy bone shape edition
A clear, easy to use bone picker
Quick color customization
Fully cartoon compliant: Stretchy spine, legs, arms...
IK-FK snap with autokey working, and snaps properly when unlocking all the leg/forearm rotation axis
Knees and elbows pinning
Multiple Child-Of constraints support for the IK hands and feet to change their parent space any time (e.g. if the character is driving a car, hands on the wheel, then grab the car door)
Complete set of secondary controllers for fine pose sculpt
Advanced facial setup
Shape keys drivers creation tool
Game engines support: Unity - Unreal Engine FBX Generic and Humanoid rig type
Bone remapper to retarget any armature action to another one, with different bone names and bone orientations. BVH files compliant - Mixamo animations, with IK support
Compliant with X-Muscle System for realistic muscles simulation
11.869 lines of code craziness
And finally, the best thing: by buying this addon you support my work and the Blender foundation, its developers financially. It's worth a big thank you from the open source community, helping Blender remaining free and accessible for everyone. And obviously you ensure the funds for this addon next new features, bugfix. I'm making my best to constantly improve the beast, based on users requests and my own ideas. Have quick look at the release log below. You receive a notification when the addon is updated, and download it for free.
Updates:
Make sure to uninstall the current addon before installing the new one and restart blender.
----[3.13a,b,c,d]----

New:
Smart
Support free feet orientation! They don't need to be aligned anymore :)
New 'Turn' buttons to rotate the character by 90° steps to face the camera before the detection
To clean the interface, the markers are now deleted after pressing the 'Go' button. To restore them, a new button has been added: 'Restore Last Session'
Improved the spine, wrist and fingers detection, especially if the arms/hands are inclined 45° (A-Pose), wich were hardly supported before.
Game Engine Export
Bake All button to bake all of the actions to the humanoid armature at once
Improvements:
Smart
Cosmetic, the markers are now drawn using fancy openGL stuffs!
Improved the toes end position for the foot roll based on the ground
Game Engine:
Set the scene simplify parameter to 0 for subdivision (and restore it after the operation), to speed up the humanoid unset
Fixed:
Smart
Before the detection, if necessary, remove the mesh parent, reveal hidden vertices, apply the rotation
Root volume not detected with very low poly meshes
Game Engine Export
Check for non-existing vertex groups in case of deletion
Auto-Rig
Fix the mirror foot controller shape orientation
----[3.12]----
New:
Game Engine Export
More export options, Advanced and Full Facial.
Advanced will include the secondary bones, bend bones, breasts to the humanoid. This can change the secondary bones weights a little, so in option, if you have animated the character, enable Push Additive to compensate the weight transfer (since the additive armature can't be exported, the bend bones weights are merged on the main one, thus the weight are shared).
Full facial rig will export all of the facial bones and skulls except the secondary eyelids (up to now it only included 4 lips bones the jaw and the eyes),
Buttons are now greyed out when an operation is already done (UE units already set, humanoid armature already set...), avoiding useless clicks to users.
Improved the UE Units/Blender Units switch and Set/Unset, faster and more optimized.
When binding the mesh a second time by error, there is now a check to prevent double binding, making sure to unbind the mesh first.
Fixed:
Auto-Rig
The leg bend bones were not properly aligned, scale were resetting, improved the ankle and wrist default skinning
X Mirror was not disabled for the arm bend bones, leading to inversed transformation
Game Engine Export
Some vertex groups were not transferred properly for humanoid
Wrong results when switching units with auto-key enabled
----[3.11]----
New:
Game Engine Export:
Auto append of the humanoid armature when clicking the Set button, no more necessary to append it by hand (same feature to come for the auto-rig armature as soon as Blender 2.79 is released, unstable for now )
One click button to export fbx with the right parameters, replacing Select Exportable.
Custom bones can be now added to the humanoid armature when clicking the Set button. Just name them with the prefix 'cc_', and make sure they are parented to a controller bone (bones with 'c_' prefix)
Remap:
Retargetted actions now use names from the source action + '_retarget'
Fixed:
Remap
When the IK chains were outstretched, the IK pole got lost. To prevent this, the IK pole keyframes are now deleted when the bones angle is too low, resulting in a smooth interpolation
----[3.10]----
New:

Split Parts option when binding for better handling of separate meshes (hat, glasses, clothes...)
UI layout with tabs, more compact
Color sets
Game engine export: removed the base fingers bones from the humanoid rig


Fixed:
Other unit scale than 1.0 did not move picker panel bone properly (spine count, duplicated limbs)
Switching to Unreal or Blender units after posing a character without keyframes did not preserve the pose. Now the necessary controllers are keyed before switching. Also the foot_cursor controller Transform constraint values are now scaled as well, preserving animation data.
----[1.0]----
Auto Rig Pro Release!
No FAQ's found for this product.
Purchase this item to leave a review!