Winter Tree - Winter Trees And Bushes Collection + Future Updates - Free 2nd Update Available Soon
---
Hi guys! 
The 3D shaker in cooperation with Vitaly Ilin proudly introduces the WINTER TREES and BUSHES COLLECTION,  -  a collection of high-quality models of deciduous winter trees and bushes prepared for Blender and Cycles. Each tree was made with professional tools as well as with attention to a realistic look and details. 
If you are looking for the best quality deciduous trees for your renderings, don't look any further! With all the materials set up for Cycles, it makes it a fast and easy one-click solution for landscapes in all your most exciting projects.  
All materials are PBR (physically correct) and based on principled BSDF Cycles shader, so you can use them in Blender 2.79 as well as 2.80 and higher. 
This collection contains more than 55 single models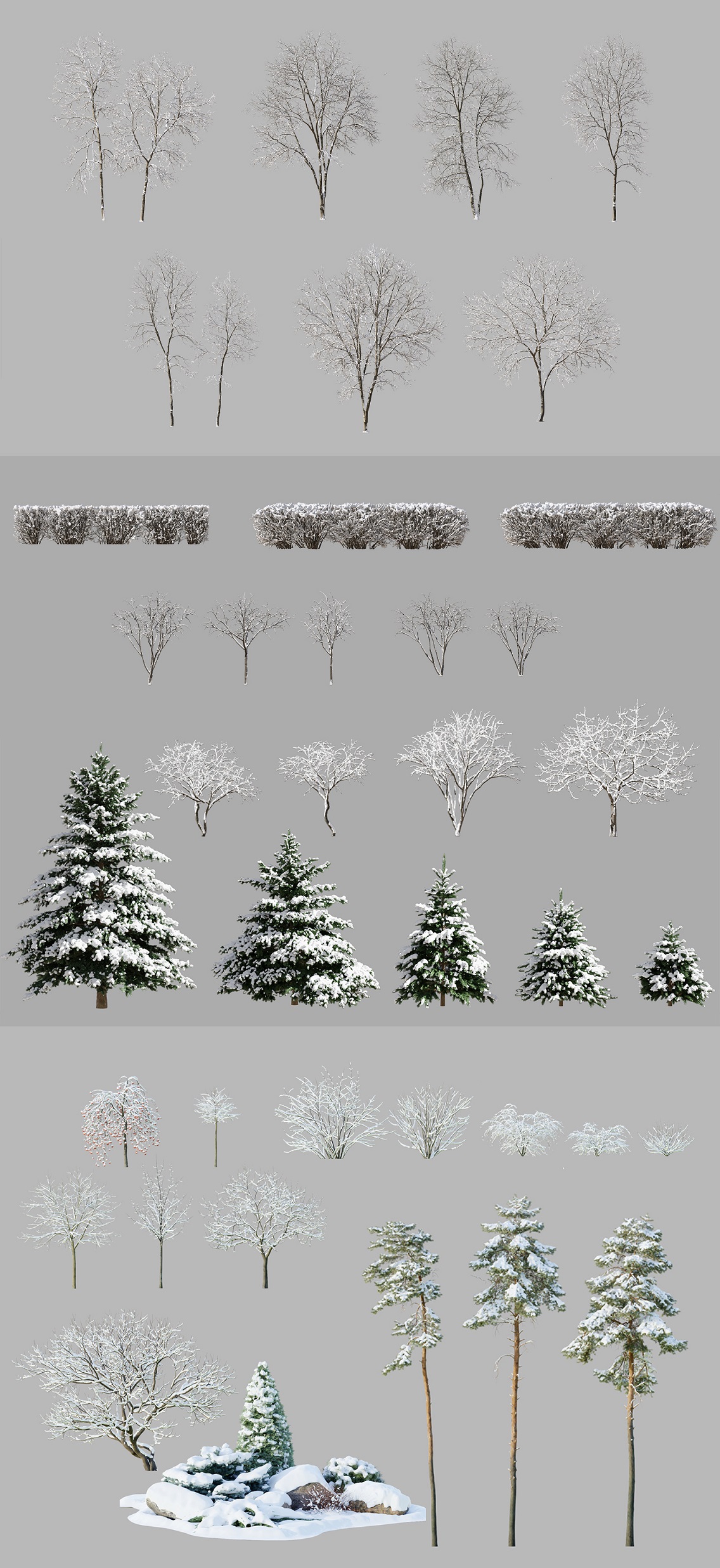 9 high trees (15,5m - 25m)
15 bushes (3 hedgerows)
5 small trees (2,5m - 3,5m) 
+ FIRST UPDATE
 9 new trees 
5 coniferous trees 
4 small deciduous trees
+ SECOND UPDATE
Alpine hill scene
3 coniferous trees 
6  deciduous trees
5 bushes
(Render by Rudi - using our Winter collectio)
The FIRST UPDATE IS AVAILABLE NOW  
it contains 9 new trees 
5 coniferous trees 
4 small deciduous trees
If you buy it now next UPDATE IS FOR FREE
SECOND UPDATE FOR FREE after Black Friday / Cyber Monday sale 2022
* if you buy now, all future updates are free
the second update contains: 
3 small conifer bushes with rocks 
3 big conifer trees 
6 deciduous trees without leaves
6 bushes covered in snow 
Save up to 40 USD by buying now! 
(Render by Rudi using our Winter trees collection)
Are you interested in more NATURE models?
You can easily choose in our web library in categories
Hope you enjoy it!
Thanks for supporting us and Blender community!