2.8 Version.
    I am working on the 2.8 version, and its already available for download along with the 2.79 version, there will be improvements on stability and features for further updates.
Version 1.04 update: 
    / tweaks to ui
    + Added save/load for envelope armature presets.
    + Improved optimzed remesh algorithm.
     Warning: This addon only work with the official blender 2.79.  Its not meant for daily builds!
Version 1.03 update: 
    / tweaks to ui
    + Added Import/Export to light presets.
Version 1.02 update: 
    + Added mask split tool
    + Added mask deform tool
    / Mask decimate no longer call a modal slider
    / tweaks to UI
Sculpt Tool kit
The sculptor's tool kit. (Featured .blend file!)

When I had the idea for this addon, It was just meant to be a remeshing operator. Just to help save time when dealing with mesh resolution. 
But when I posted on facebook an experiment, things went crazy, people started sugesting great ideas. I compiled some of them in this addon.
So here is the result.
And this is the complete list of features:
Remeshing
Basemesh generation

Booleans

Manipulation tools
Viewport light controls
A few other things
So lets by parts, with begin, middle and end.
 I'll start by the middle.
In this addon, almost every feature is linked though the shortcut "ALT + W".
Update!! 1.02
Now we have the "Mask Deform", an manipulator that deform a model with sculpt mask! See it in action!
Also the new "Mask Split" tool separates masked from unmasked parts of the mesh, a more fast approach to separating dense meshes into pieces!
Basemesh generation:
Basically it is the Envelope builder:
"Add Envelope Armature" Creates a humanoid model with an armature that you can edit then convert to mesh.
"Add Envelope Bone" Creates a single bone so you can create your own base from scratch (If needed).
"Convert Armature To Mesh" As the name suggest, convert the armatures to editable meshes.
Remeshing:
"Optimized Rmesh" Rebuilds your model out of quads so it's easier to sculpt, it can add multiresolution while preserving details.
Booleans:
You have acess to the three basic boolean operations ("Union", "Difference", "Intersection").
Plus a special cutting tool "Slash Boolean" Which enables you to cut extract pieces and dig holes on solid meshes.
Viewport light controls:
This is a pannel where you can personalize the look of the solid display on the view port, you can save and load light presets .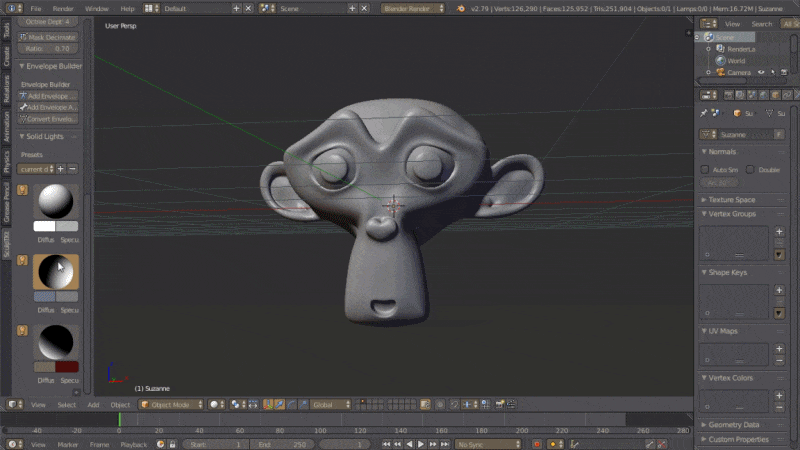 There's the "Ramdom Colors" button now. Just click it and the colors will be ramdomized for each object, great for viewing separations.
I hope you like it.