Physical Starlight And Atmosphere
---
Breathtaking outdoor lighting in a single click

Physical Starlight and Atmosphere is a completely volumetric procedural sky, sunlight, and atmosphere simulator for Blender. It has been actively perfected for over 10 years already and since its release has been the go-to lighting tool for many independent artists to highly skilled professionals and studios.
Create your world by tweaking these parameters:
Variable Sun size and brightness
Binary Sun (extra rotating sun)
Procedural Atmosphere (adjust atmosphere density, height color, and more)
Stars (procedural or HDRI options supported)
Basic Clouds procedurally generated (adjust scale, thickness, coverage, lighting location, and more)
Procedural ground plane with variable height


BONUS INCLUDED - Premade presets:
A total of 10 presets are included (Earth, Mars, Nishita, Retrowave, and more)
Saves time
This addon saves hours that usually are invested in manually creating sky, atmosphere and placing sun object and stars, and automates it within a single click.
Made by professionals
We have more than a decade of experience with atmosphere rendering techniques in the computer graphics industry. Physical Starlight and Atmosphere addon is used in entertainment, film, automotive, aerospace, and architectural visualization industries.
Has premade presets
Presets allow you to store a snapshot of your customized atmosphere settings and return to it later or use already predefined presets provided by the addon.
Highly customizable
We use a procedural method of calculating the atmosphere based on many tweakable parameters, so that sky color is not limited only to the Earth's atmosphere.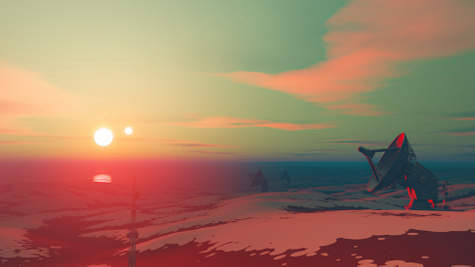 Well integrated
Works well in combination with Blender Sun Position addon. You can simulate any weather at any time.
Other features include:
Visually accurate mathematical model
Made for PBR and HDR workflow
High dynamic range, use with tone mapping (filmic or aces)
Earth shadow (belt of Venus)
Unlocked viewer position - can simulate conditions at any altitude
Consistency - sunlight, sky, and fog share the same parameters
Performance - load and render faster than HDRI textures
Small memory footprint
Don't take our word for it
Physical Starlight and Atmosphere has been an invaluable tool for me in my personal/professional work and a huge missing link for lighting in Blender. It still feels like magic every time I use it, I can't recommend it highly enough!
Physical Starlight and Atmosphere has been an essential add-on for all of my environmental design projects. It gives me such incredibly flexibility and control over the look and feel of my renders. Lighting is key for any project, and this add-on always gives my work that extra edge.
As a lighting artist, focusing on the overall mood of an image is super important. Physical Starlight and Atmosphere is based on reality, so I can spend all of my time iterating on the look without worrying about how to achieve it.
FAQ:
Q: Which rendering engines are supported?
A: Cycles and Eevee.
Q: Does addon have documentation?
A: Yes, you can find it
here
.
Q: Will future updates come free of charge?
A: Yes. Future updates are included for free and available in Blender Market.
Q: Can I freely distribute renders made with this addon?
A: Yes. Feel free to use it for your commercial projects e.g. NFT's and such.
Q: What does Community support (Discord) mean?
A: It's a group of enthusiastic users and our developers that help address user issues in a forum-like way. For direct and prioritized support consider upgrading to Studio or the Enterprise. Discord link
here
.
Included with the purchase - Macbeth ColorChecker node setup!
Get it in the Blender Market downloads section.
Read more:
The complexity of the atmosphere
How is this different from other solutions?
Why procedural skies?
Awesome time (and money) saver!
The complexity of the atmosphere
We float through and breathe the atmosphere, we see it every day and we take it for granted. Most of us don't even care to understand why the sky looks like it does. We just naturally can look at the photo of the sky and tell that it feels like a cold winter morning, hot summer evening, dusk, or dawn.
So even though replicating those moments would seem like a trivial task, the more you dig into it, the more you understand the complexity of it. There are many concepts at work that make the skylight look and feel right and we always don't have the time and patience to do our own research. This is why we made the PSA - skylight system we wish existed when we started doing CGI!
How is this different from other solutions?
As an artist you don't want to feel limited by software, so PSA offers you unlimited customization possibilities. It is not tied only to Earth's atmosphere like other analytical sky models (Preethan, Hosek-Wilkie, or Nishita), but lets you make even alien landscapes in a binary star system. Lighting is procedurally calculated based on real-world physics, therefore even your craziest input values will offer physically correct lighting. And the crazy thing - all of it is calculated in real-time, so it works in Eevee just as well as Cycles.
One special feature PSA has - is volumetric. Unlike HDRIs that are, basically, spheres around the scene, our sky fills your Blender scene with air (or any gas of your liking) where density at the ground level is the highest and in the space - lowest, then a Star illuminates the air using physics laws.
Sun and Skylight is the dominating light source for outdoors and most of the time - indoors too. PSA does not only make the sky and atmosphere, it simulates the Sun object scattering through the atmosphere.
Why procedural skies?
Procedural skies are more common in the games industry, and there the industry has developed way past the static HDRIs, skyboxes, or skydomes.
The industry is still using the good old HDRI light probe method to do outdoor lighting, and for a good reason - it is the simplest way to simulate realistic lighting conditions, without worrying that it will look wrong. After all, it is a 360° snapshot of a real environment.
HDRI probes unfortunately are not able to capture one crucial aspect - the fact that the sky is dynamic. The sky is not just a membrane of the imaginary rim of the sky, it has volume. The sky's the atmosphere and the atmosphere is a physical medium consisting of a blend of gases. The sky literally starts just outside of your eyeball and extends to outer space. Sunlight travels through this medium illuminating, scattering, and absorbing in it.
Physical Starlight and Atmosphere is a product 2 years in active development and a culmination of at least a decade of research and development.
Awesome time (and money) saver!
We have been using it for a few projects and this tool has already saved us many hours of work and hundreds if not thousands of euros on HDRi probes.
We did the test
With the HDRI probe method, it usually took us at minimum 2 hours per project to find the best matching environment map (desired sun position, overcast or not, urban or greens, camera altitude, etc.). Then buying it, setting it in the scene, waiting for data to load, render, fine-tune, render... till you get the desired result.
Then we used this tool and matched the lighting in minutes. That puts things in perspective.