Interior Essentials + Flow 2.4 - Design Tool & Asset Library
---
CREATE PHOTOREALISTIC INTERIOR SCENE IN LESS THAN ONE HOUR!
Discover
Interior Essentials + Flow 2.4 - Unique asset library and with our custom asset management addon
Over 390 photorealistic and customizable assets
50 PBR Materials
And One Flow Plugin to rule them all!
The ultimate asset library of photorealistic and render ready assets for interiors with the special Blender plugin, that will help you creating your amazing artwork even faster than ever! You will find kitchen stuff, some furniture, decorations, plants, whatever you need to make your interiors feel alive!
The new design tools are already here for making the interior designing in Blender even easier than ever! Asset customization system with a lots of customizable models, material generators and library, floor & tiles generator, it's everything here to help you creating the better interior designs! 
You'll also find the tools to create your own assets, and add them to the categories - faster than ever! 
And the digital.ARCH library still keeps growing!
TRY EXEMPLARY ASSETS FOR FREE
Download the free demo from https://digitalarch.pl/interioressentials/download.html
The free demo includes 25 objects & 50 materials & Interior Essentials Addon Demo
FLOW ASSET MANAGER
This product INCLUDES full version of Flow plugin and the Interior Essentials assets. If you want to get just the plugin, without assets to build your own library, you may purchase standalone plugin cheaper from https://blendermarket.com/products/flow-manager
INTERIOR ESSENTIALS with FLOW 2.4 Now Available
The new plugin is now released and with useful features to make your work even easier! Check out the latest features below:
Add the assets to your scene fast and easy...
Nothing slows down the workflow as exploring your drives to find the proper asset. With Interior Essentials, you can dig through dozens of assets within second, and add them directly to the scene just with the few mouse clicks!
AND CUSTOMIZE THEM DIRECTLY IN YOUR SCENE WITH THE NEW PROPERTIES SYSTEM!
Most of the current model library has been rebuilt, so you could easily customize its color and materials, without the need of making them editable first. You adjust the properties directly on the instance. Each object received it's own set of properties - you may adjust the size, material or even cover the window with the blinds!
You may now also add your own properties really easily with the Flow plugin! Check our docs to learn more


ADD YOUR OWN OBJECTS & MATERIALS TO THE LIBRARY! 
Build your very own assets library Quickly and Easily with the Flow addon!
You have more assets that you want to use with our plugin? Adding custom assets to the library is now easier than ever! Simply select the desired objects, click the button, select or create category and subcategory, enter your assets name, and the plugin will do everything else for you, making the selected object easily re-usable in any other scene! The example below shows how fast and easy is adding the new assets straight from the scene.
Discover the new photorealistic and randomized Floor & Tiles Generator!
Create the photorealistic effects with just any texture you want. Generate real-sized, and randomized flooring and ceramic tiles, easier than ever - directly in Blender! No texture will provide you this effect! And you can also edit it later in the Shader Editor just in any way you want!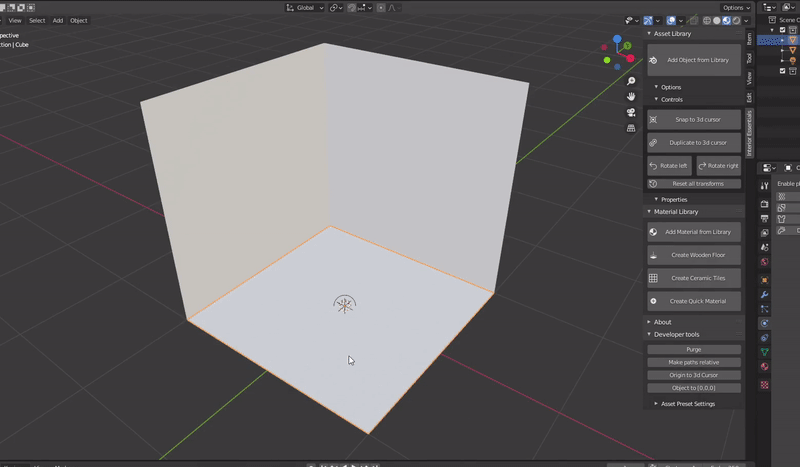 Discover Flow Instance Tools to work with instance collections even easier
Edit your instance collections easily, explode them or convert to fully editable meshes
Flow tools make the work with instance collections easier than ever! Create quick instance collections from any selected objects, edit any instance collection without the need of performing numbers of actions, explode the instance to it's initial meshes or convert the whole instance to the single editable mesh! Save your time and your disk storage re-discovering the amazing instance collections!
Add the material from the library straight to your objects
We've also developed a simple material library to help you adding the materials to your objects faster and easier - without the need of entering the shader editor and loading bunches of textures, and adjusting shader effects.

Quick PBR Generator
You didn't find the desired material in our library, or you just want to add a quick generic material? We've created the tool named 'Quick PBR Generator' to make it faster! Add one of predefined effects, or load your own textures to create the material and append it to the object just with few mouse clicks, you don't even need to enter the shader editor. Nothing gives the better results, if you want to 'materialize' your model quickly!
All this to help you creating breathtaking renders!
Over 390 models & 70 PBR materials so far and still growing!
The library contains (so far) over 390 photorealistic models, divided for few categories, just to be easier for you to find what you want. There are decors, furniture, pots, glasses, drinks, lamps, chairs, cooking utensils, plants, almost anything you need to make your interiors feel more alive and photorealistic! And be sure, that this is just the beginning! Check out the selected assets below, full list available on our website
Selected Assets:

List of all the models & materials available at: https://digitalarch.pl/interioressentials/models.html
Recent updates:
August 2021
11/08 - Release of Flow 2.4 - major bugfixes for Flow and Asset Painter, new features - copy textures to library when creating assets, worlds manager
May 2021
18/05 - Release of Flow 2.3 - new Asset Painter feature and a lot of bugfixes
February 2021
24/02 - Release of our Flow Asset Management plugin (v2.1). Materials linking system has been rebuilt. Adding custom objects and materials to the library is now easy and almost fully automated. New Instance Tools developed for better instance collections workflow.
November 2020
6/11 - Version 2.0 finally released. Including the new asset customization system, quick PBR creator, Tiles & Wooden Floor Generators, many handy options, new menus and a lot of new amazing assets - including the long-awaited Bed category
July 2020
16/07 - Plugin update (1.1) released - You can now append the materials from out library with the help of the plugin. New coffee tables added to the collection..
13/07 - New plugin version (1.0.0) released - New functionalities and features, like make the instance editable, move & duplicate to 3d cursor, handy rotation operator. Also some minor additions & improvements to the assets.
June 2020
18/06 - PLANTS & POTS added to the library, library categories re-designed for the better performance with extending the library. Furthermore, some fixes were made to the to ther fabrics materials, and some individual models added to the other categories.
5/06 -A lot of stuff for bathrooms and living rooms added, including dozens of misc objects, equipment, furniture. Futher updates will be smaller, but more frequent!
April 2020
This is the very first release of this library and is covering the Kitchen. The next update is planned to cover living room and bathroom. Buy now, and you'll have access to all the future updates!
Make photorealistic visualizations with photorealistic and render ready assets for Cycles!
The essence of Interior Essentials is the Library of hyperrealistic but optimized objects, that will breathe life into your interiors. And this will be the only asset pack you've ever needed. It contains all those stuff, that you've never had time for to model.
Stop wasting your time and money on looking for the perfect miscellaneous objects for your scene. In the price of just a few single models, you receive the whole, ready to use, library of assets with perfect PBR materials for Blender Cycles and the variety of single object types. 
Our assets library is also the great solution to improve quickly your exterior scenes! Do not hide your interiors while making the external views. Fill them with Interior Essentials and be proud of showing them off!
Try for free!
https://www.digitalarch.pl/interioressentials/download.html 
Breathe life (and photorealism!) to your interiors
The detail matters. Nothing makes the scene more realistic than the real life objects. Our library can help you with improving your scenes and interior designs, by using the large variety of miscellaneous objects. And all of them are ready to use for Blender Cycles. You won't have to dig through the whole Internet to find your desired object, and then convert it and create its materials from scratch. 
Preserving the fines details
Once again - the detail matters. We are aware of that, so we are trying to put it down on our creations. First of all, the objects included in the library are equipped with detailed, but optimized PBR materials. We spent a lot of time making it looking the best way, for you! Also all the models are based on the real objects, including bunches of object that we had in our houses. That helped us to focus even on the fines details and recreating the REAL object in 3d. This is why they look as much realistic as possible. 
Buy once, update forever!
Once you buy it, you will have all the future updates for free! All the future updates are goint to come even more frequently, with thematic sets of objects.
Credits:
All models created by digital.ARCH
Textures:
digital.ARCH
Pillow patterns:
HDRi in Flow plugin:
https://hdrihaven.com/