Sketch-N-Paint Shader Pack
---
What Is Sketch-n-Paint? 
Sketch-n-Paint is a collection of 18 sketch and paint style shaders built for Eevee.
I created these for my personal storyboard projects, but they turned out to be so good that I'd like to share them. 
You can use these for storyboards and animatics, comics, illustrations, and yes, animations. They're fast. 
Why is Sketch-n-Paint? 
There are plenty of procedural shaders and their tutorials out there which, while helpful and versatile, can impact performance and slow you down. Since performance is a requirement for me to quickly set up a scene and draw storyboards, I made these shaders from dozens of seamless textures I sketched by hand that give me exactly what I wanted, without slowing down my computer, no matter how many objects I work with. 
The variety of these textures also provides a personality that one simply can't get from purely procedural shaders. If you like your scenes to look a little less digital, you might want to consider Sketch-n-Paint.
How is Sketch-n-Paint?
It is doing well, thanks for asking. 
Working with Sketch-n-Paint is as simple as dragging-and-dropping from the Asset Browser onto your object, with no UV mapping required.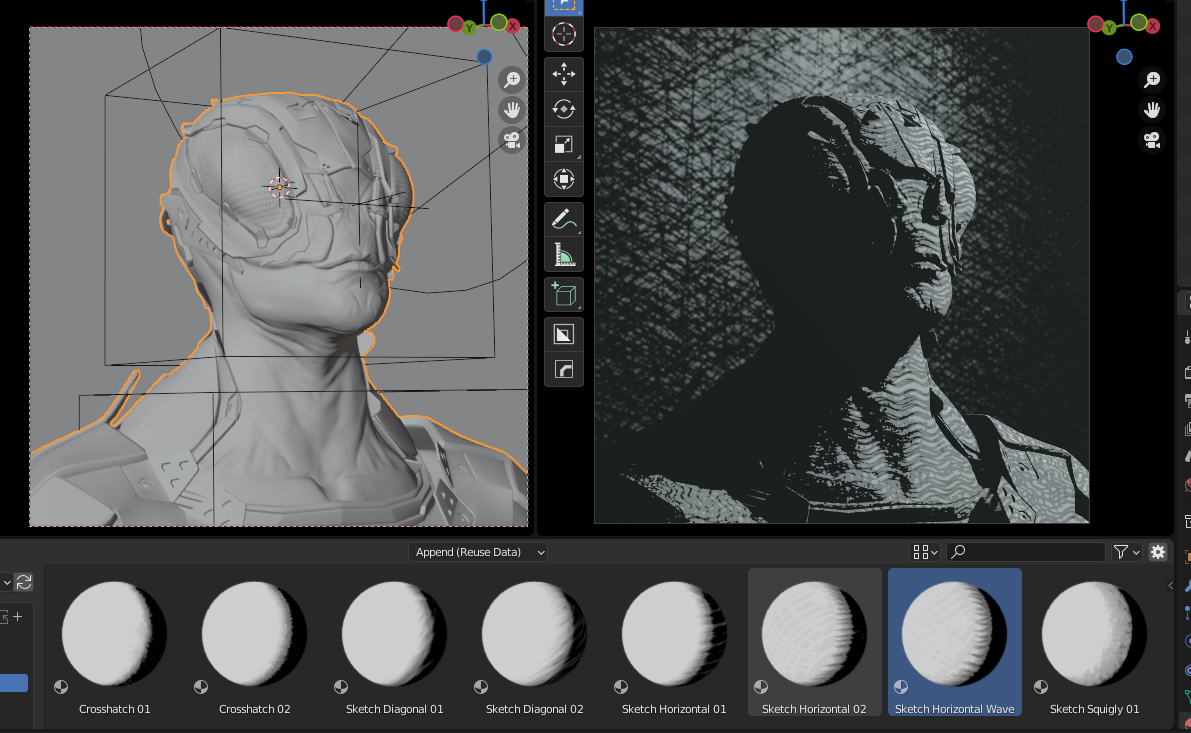 It allows for plenty of adjustments.
If you're adventurous, you may also stack one on top of another to personalize your look. 
Did I mention it can react to light-color if you wish it to? 
You will also get a lifetime of updates as and when I add more shaders or improve existing ones. (And yes, feedback is very much appreciated for its continuous improvement.) 
I hope you love using these as much as I do. I'm curious to see how you use them. 
So if you'd like to show me your work, or if you have any feedback for this pack, please absolutely contact me either via email or via Twitter. 
Cheers, 
Cyan Los
Note: The Wasp-Bot model is by Emiliano Colantoni and can be downloaded from https://www.blender.org/download/demo-files/