* Shape-it *
⭐⭐⭐ See Our Other Products [Lollipop Characters | Clothes in Motion | Grab-it | Wireframe Render(Free)] ⭐⭐⭐
Shape-it is a package for 3D Artists, MotionDesigners and Graphic Designers (see graphic design and video applications at bottom)
It comes with the following
1. Addon : Asset Importer, Shape to Balloon, Cloth Pinning
2. 100+ 3D Motion Elements
3. 35+ Animation Presets
4. Simple Shaders for Motion Design
5. DynaString
6. PNG Sequences of all shapes for video (Metal and Glass)
1. Addon
Import : Use the Shape-it Addon to import Motion Elements, Materials, and Animation Presets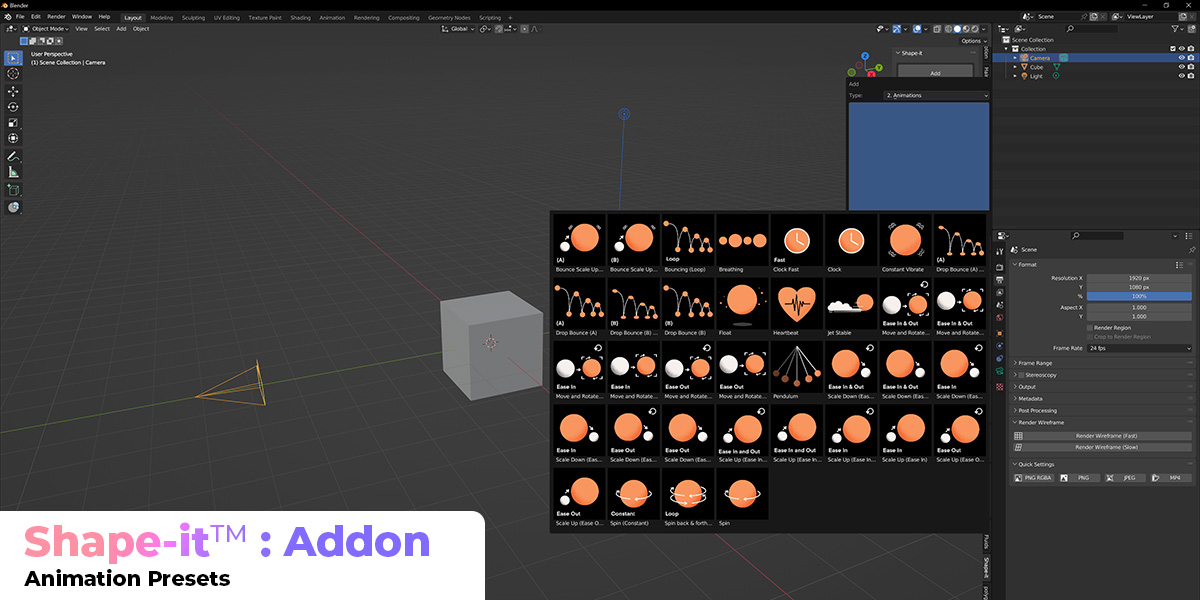 Shape to Balloon : create inspiring visuals by adding soft simulation-ready ballon-like objects to your project(s). Transform any shape or group of shapes (including text) to a soft floating balloon with a single click. Control levels of detail and helium (gravity) in the settings.
Cloth Pinning : No need to hop into Edit Mode. Control cloths and Balloons using Pin objects.




2. 100+ Motion Elements
Freely add motion-design elements to your scene/project. Great for 3D composition, Physics exercises, and added detail




3. 35+ Animation Presets
Spend less creative energy on the tedious tasks. Pick from over 35 Animation Presets to use in your Project. Simply select any animation and parent your object(s) to the key Empty (as shown below)

4. Simple Shader
Import a set of shaders. RedShift Style Glass, Gradients, Speckled, Swirly (thin), Swirly (thick)
***Note : The function imports the library of 6 materials into your project. The Add-on does not apply the material to your selected object.




5. Shape it - DynaString™
Have fun creating inspiring visuals using this special simulation cable included in Shape-it
6. PNG Sequences - Shape-it for Video
PNG Sequence Pack
Add 3D Elements to your videos without the need to fiddle with 3D Software. Shape-it contains looping PNG Sequences of high-resolution animated shapes (two materials each - Glass and Gold/Metal). Change the hue and add effects to your taste.
Shape-it for Web, UI, Brand, and Graphic Design
PNG Sequence Pack
Spice up your Documents; add more depth using Shape-it PNGs in your Graphics, UI and Web