Rbc Addon | A Car Rigging Physics Addon
---
It's Here! The RBC Addon allows you to rig your vehicle with real-world physics in Blender easily! A combination of Rigid Bodies and Drivers will enable you to drive and steer your vehicle in real-time and the caching system lets you record and save your animation!
NEW FEATURES:
RBC 1.1 Update adds 2 new ways to control your rig, along with some helpful changes and fixes!
KEYBOARD 
CONTROLLER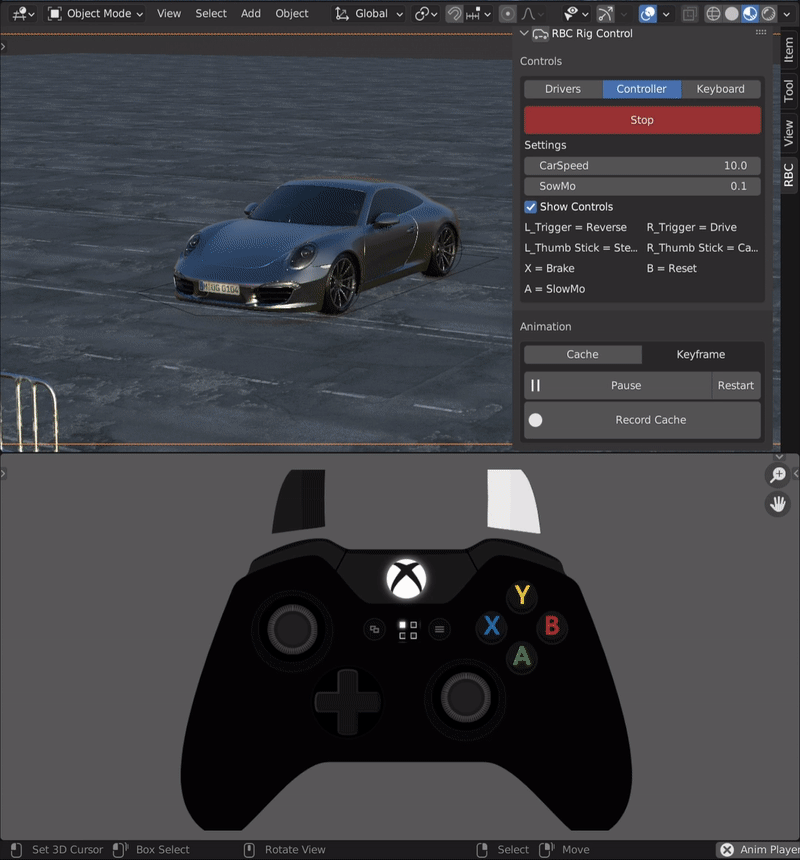 Get Started:
RIG SET UP
Quickly set up your vehicle rig with a few short clicks 
RIG TUNING
Customize the RBC rig to your specific vehicle
RIG CONTROL
Drive and record your vehicle for quick animations 
COLLISIONS
Easily add objects for your vehicle to interact with
DIY
Do you want to create one yourself? I've made a tutorial for you here:
What's Next?
Uhhhh.. A lot. This is just the beginning.
Follow the Development:
My goal for this addon is to help people create realistic vehicle animations with ease but if you want real-world results you have to accept the chaos that comes with the real world, so if you have any issues please report them to the Discord server below.
Credits:
"(FREE) Porsche 911 Carrera 4S" (https://skfb.ly/6WGTU) by Karol Miklas is licensed under Creative Commons Attribution-ShareAlike (http://creativecommons.org/licenses/by-sa/4.0/).