Take a look at my other products


Quick Cloth Inflate is an addon that allows you to create a simple inflated object, using the pressure settings in the cloth tab.


1) Select your object or create a cube and subdivide it five times to get a high dense mesh.

2) Create a collision object such as a plane and make it "collision" in the physics tab.
3) Go to the layout panel "N" tab and select the cube, click on "Inflate Now", this will make your object have the pressure settings in order to inflate it, and play the animation.
Changelog:
v1.1 -> Now supports individually settings and bake simulation buttons
Quality

Mass

Pressure

Pressure Scale

Gravity

Stiffness Tension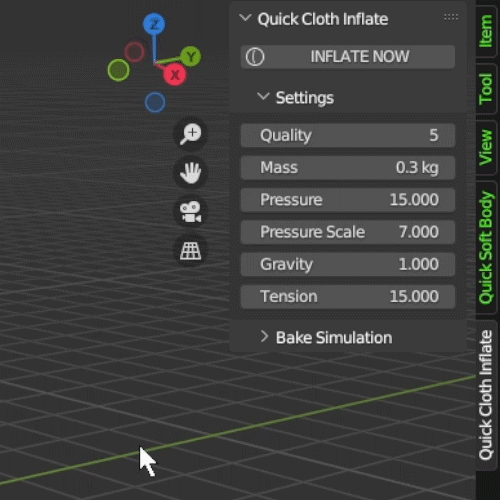 v.1.0 = Launch

Development plan:
- Create individually button settings for Vertex Mass, Pressure and Pressure Scale  Done
- Add layout panel for easier workflow Done
- Add a bake button with simulation start and end  Done