How To Be Lazy & Focus On Your Art

TLDR
PBR Bridge will save you 20mn of your time each time you need to go from Blender to Substance / Quixel Mixer / ArmorPaint and back.
Addons
Good news, everyone!!
Substance Painter workflow drastically improved!
Support for many Substance Painter versions: from 2019.3.3 to 8.3.0/2023 (Steam included)
Previously
Substance Painter support added
ArmorPaint support added
Added possibility to import SSS factor map
Added possibility to import SSS color map (you can blend with the auto-generated one)
Added possibility to import Emissive map
Create blank missing UDIM textures
Copy WR PBR Bridge export presets to UserDocument Substance folder
Copy WR PBR Bridge export presets to ArmorPaint folder


Compatibility
Tested with:
Quixel Mixer: 2021.1.2 BETA
Substance Painter (incl Steam Ed): 2017.x(not working), 2019.x(not working), 2019.3.3, 2020.2.0, 2020.2.2, 7.2.3, 7.3.0, 7.4.0/2022, 8.2.0/2022
ArmorPaint: v0.8 (2021-09-18) - be27753
⚠️Not fully automated on:
⚠️ On these OS you will have to launch manually your painting app and create Substance projects manually.


What is it?
PBR Bridge provides a non destructive, automated, texture workflow between Blender and industry standards: Quixel Mixer, Substance Painter & ArmorPaint.

It's amazing the amount of time I was able to save from tedious manual tasks!
You can forget about model import / export, baking material IDs, joining meshes, creating shaders or applying modifiers and you can Just focus on your art 😀
You can simply go back and forth between Blender and your texture software to retouch your modeling, UVs, UDIMs, etc.
So behold! This addon fully automates the whole process for you.
At the end of the day, it basically sums up to two operations:
"Edit with Mixer/Substance/ArmorPaint"

"Sync Maps & Create Shaders"




Docs
 Support


Why is PBR Bridge so useful?
Firstly, the addon auto generates color material ID and auto bakes Material IDs with UDIM support.
Also, you can keep a non destructive workflow, so no need to apply any modifier (or remove "final displacements"). Which is perfect for a Multires Sculpting workflow.
Additionally, you also can use separated meshes without the need for joining or selecting them.

Then the addon auto creates Quixel Mixer, Substance Painter & ArmorPaint projects with up to date FBX/OBJ and material ID maps.

And it comes with an Advanced PBR Shader with UDIM support which will produce Cavity & Subsurface from other generated maps.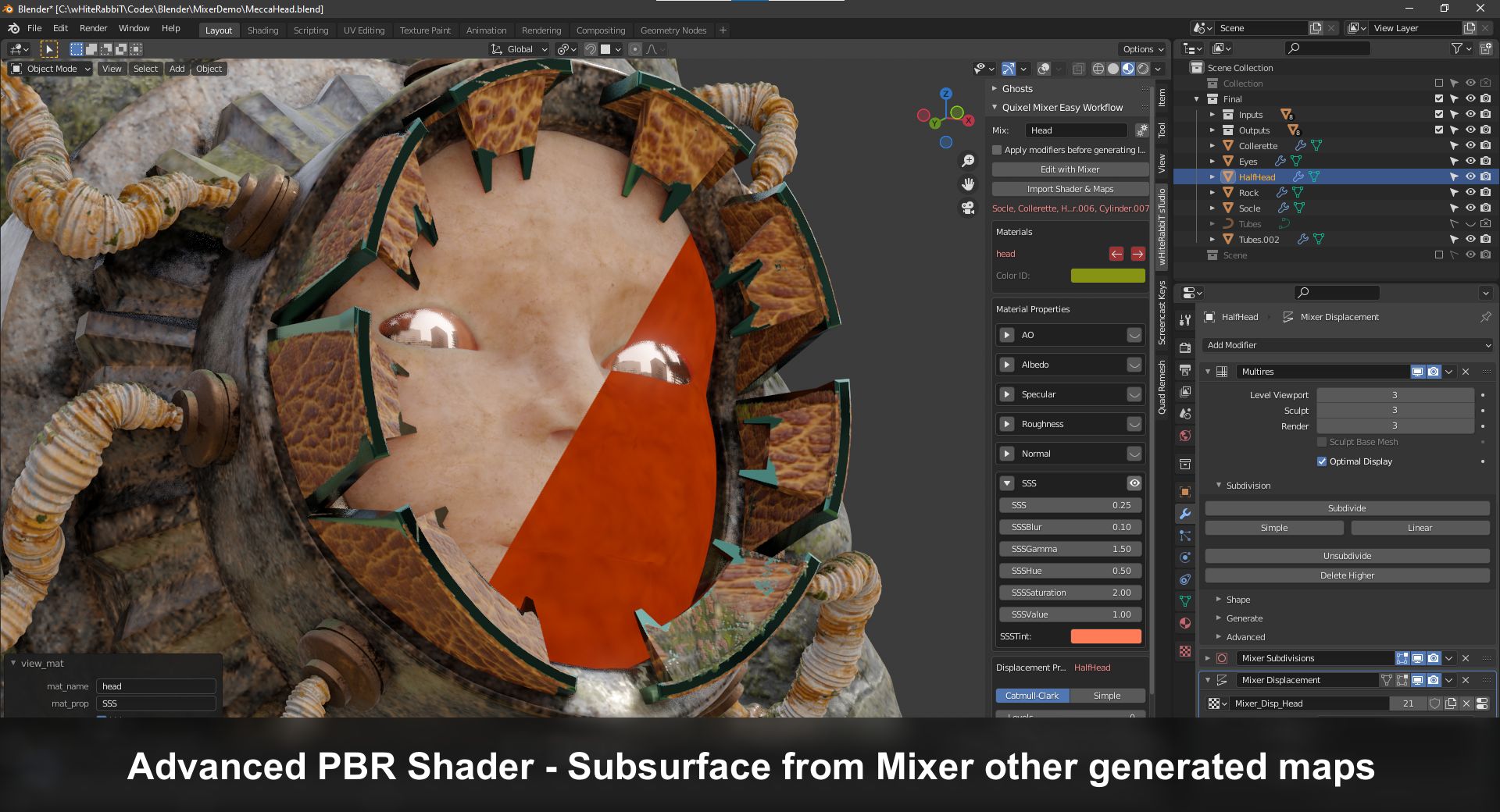 No need to dive into the Shader, just tweak all Material Attributes from within the Viewport3D.

Finally the addon will add final Subdivision & Displacement with UDIM support from generated displacement map.

Release Notes
v1.2.14
v1.2.13
Fix missing 'plugin.json' from Substance 2022
Fix missing templates from Substance 2022 on Linux & MacOS
Fix Substance project not created correctly on MacOS
Added a MsgBox to help MacOS & Linux user to manually open Substance and create the correct project.
v1.2.12
Added Support for SteamEd 2023
Changed Pref Button to iwHiteRabbiT Framework One
Changed default label name to "iwHiteRabbiT"
v1.2.11
Handle Texture Names longer than 63 char
v1.2.10
Added support for Substance Painter 8.2

v1.2.9
Fix Steam empty Registry crash

v1.2.8
v1.2.7
Fix ArmorPaint Path regression
Fix Emission Node default inputs & blend type
v1.2.6
Custom settings for N-Panel Name 
Blender 3.0: Documentation Button (same as Blender 2.9 one)
v1.2.5
Added support for Substance Painter 2022 Steam
v1.2.4
ACES and custom color space support
v1.2.3
MacOS/Linux path preferences error handling
v1.2.2
Substance 7.3: Fix 'Painter is Busy' preventing saving project on creation
v1.2.1
Fix export presets: Use OpenGL normal maps instead of DirectX
Set MidLevel displacement to 0.5 when using Substance Legacy presets
v1.2
Reminder Tooltips
Substance: ability to choose between TextureSet (Legacy) / UVTile UDIM workflow
Substance: use of multiple displacement modifiers when using new UDIM workflow
Substance Steam: support for additional command line args in application path
Substance plugin: create & save custom project
Substance plugin: set project Workflow
Substance plugin: set export textures url
Substance plugin: import & set preset
Substance plugin: set padding:'Transparent', dilation:2 for projectWorkflow=='UVTile'
Substance Steam: Checkbox in preferences
Substance Steam: Auto Steam location
Substance: Backward compatilibity (from 2019.3.3)
Tested with Substance 2017.x(not working), 2019.x(not working), 2019.3.3, 2020.2.0, 2020.2.2, 7.2.3, 7.3.0
Substance Steam: ComboBox to launch 2019-2020-2021 versions
Better exception handling on edit button
v1.1
Raise Missing UV exception
Use Active Render UVMap to join UVs
PBR Bridge v1.0
Substance Painter support added
ArmorPaint support added
Added possibility to import SSS factor map
Added possibility to import SSS color map (you can blend with the auto-generated one)
Added possibility to import Emissive map
Create blank missing UDIM textures
Copy WR PBR Bridge export presets to UserDocument Substance folder
Copy WR PBR Bridge export presets to ArmorPaint folder
Quixel Mixer Easy Workflow v1.0