Generate geometry in patterns that are impossible with standard modifiers.
Panel Stitcher brings various methods of placing instances of one mesh along the edges of another. For details such as rivets on metal panels and wooden furniture, or stitching on clothing. But it is certainly not limited to just those.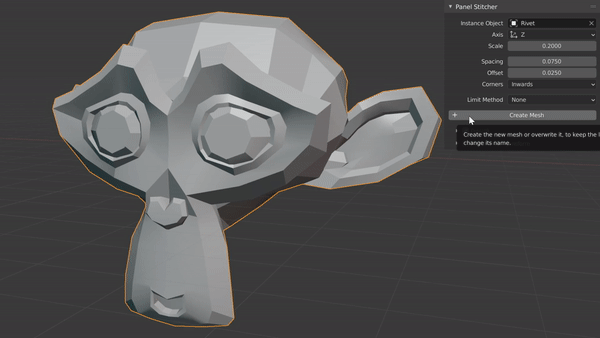 The main design goal of the add-on is to be versatile. Instead of forcing a specific usage, its features are designed so that users can integrate it into their workflow however they like.  With the level of control and different modes allowing for it to be used in many different situations. 
No matter the project, Panel Stitcher will be a useful tool to have at hand.

Changelog
v1.3
The addon now works directly in edit mode, as well as object mode.
Define patterns by simply selecting faces, also making one-sided placement possible
v1.2
Added new "Auto Update" option, to see the result update live while changing parameters
Updated code to be compatible with non-windows operating systems.
Less debug info is printed to Blender's system terminal, making logs more readable.
v1.1
Added new "Max. Connection Angle" parameter (see docs for more info)
Improved handling of extreme angles for better alignment.
Fixed bug that caused some elements to not be created under specific circumstances.
Features
Pattern control
Panel Stitcher doesn't restrict to just the geometry of the (template) mesh. Selectively filter out different edges using one of the automatic limit modes, for a sleeker result without much time spent. Alternatively, go into edit mode and mark the edges you want to use by hand, for full artistic control.


Placement variations
Mix the different placement options, like insetting edges or randomness, to get completely different looks. Combined with the freedom of making the element meshes yourself (or using a kitbash pack), there is an infinite range of variations and possible usages. Let your imagination run free!
Projection
For a high resolution mesh, like a sculpt, you can simply use the geometry of a different object as pattern template.  Panel Stitcher includes a "project" option, to automatically transfer a pattern onto a different different object during generation.
Bake details
When performance is a must, like for a game asset, you shouldn't need to compromise on the element quality or amount. The documentation includes a step-by-step tutorial for baking the result into PBR maps. It is detailed, but takes only a few minutes. After which you already know how it works and the process becomes even faster. 
The tutorial is made specifically for this add-on and gives you the settings to use for Panel Stitcher objects. There is only a single value left to adjust yourself.
Bake normal maps to "fake" shapes with high performance 
Easy to use
If the different modes and options seem daunting, don't worry. All parameters have tooltips that explain what they do or recommend when you should use them. For more information, there is a detailed documentation available. Besides, if you just want to get started, virtually no effort or knowledge is required.
Advanced algorithm
Panel Stitcher is powered by a heavily optimized algorithm. This makes it incredibly fast: over 4000 elements per second ! (on just a mid-range processor). 
It's also written to be robust and work on all geometry. So you don't need to deal with tediously removing n-gons, making the mesh manifold or worse. It works in practically every situation you'd encounter.
All you have to worry about is your design.  Carelessly delete and move geometry around, then see the result in seconds, to make what you imagined without being limited by technology.

If you have any questions, feel free to contact me using the "Ask a Question" feature and I'll try to respond and help you personally.