Mass Export 2.0 - Export Thousand Objects In Seconds
---
Mass Export 2.0
Our Blender addon allows for the simultaneous export of multiple collections or objects, saving you time and effort.
You can easily export hundreds of objects with a single click, eliminating the need to export each object individually.


Supported exports
We currently support these export types: FBX, OBJ, MTL, GLTF, BLEND, JPG, PNG, MP4, and MOV.
How does it work?
There are two ways how it can export files. It can export:1. Collection as a whole: Add-on will merge the objects inside the collection and export the collection as a one object
2. Individual objects in collections: Add-on will export every object individually to any format you pick.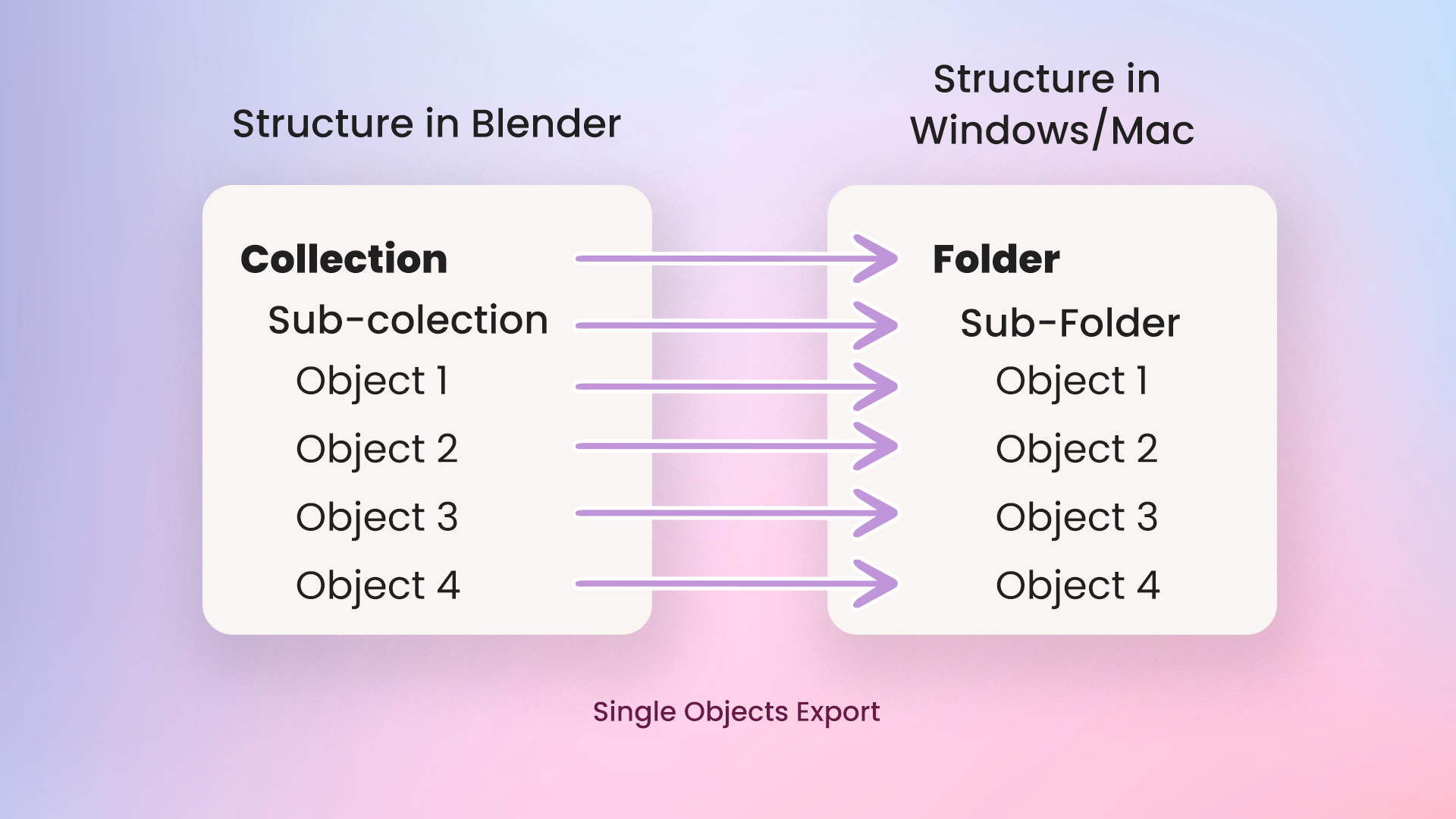 The exact structure of folders is created in Windows/Linux/MacOS.


Created folders following Collection and sub-collection naming


Mass Export Collections in FBX in seconds 
Choose a collection, and it will export sub-collections to the FBX file.




Mass Export 
Collections in 

OBJ + MTL in seconds 

Choose a collection that will export sub-collections to OBJ + MTL files.
Mass Export Collections in GLTF in seconds

Choose a collection, and it will export sub-collections to GLTF files.



Mass Export Blender files
It is possible to mass export Blender File into other smaller Blender Files.

Mass Export Render View
Choose a collection, and it will export sub-collections to render a view. It can be helpful if you want to show meshes on various objects.


Mass Render Sub-collections
Easily export the Collection to JPG/PNG/MOV/MP4 or any other picture/video format. It will respect the animation for everCollectionon, so now you can render them separately. This is great for rendering separate objects or for showing animations of separate objects at once.

Export Collection as a whole or objects individually 
You can choose if you want to combine objects of the collection into one object or export objects individually
Easily Choose a Collection that needs to be Mass Exported
It export Collection as well as its sub-collections



Do we need to keep an extra object in every export? Not a problem.
Choose collections that will be included in every export—background, lights, cameras, etc.

Properties
Easily change properties in the addon. Other properties are respected from default.
Note 📝If you need to control more properties, please write enhancement to [email protected], and we will add it there.

Contribute ❤️
If you find a bug or have a feature request, please get in touch with me at [email protected]
Created by ThreeDee


___________________________________________

Thank you for watching ❤️
🧍‍♂️ Get 3D characters : https://characterz.design/
👋 Get free 3D hands: https://handz.design/
📱 Get free 3D mockups: https://mockupz.design/
😃 Get 3D emojis: https://emojiz.design/
🚗 Get 3D vehicles: https://vehiclez.design/
🧑 Get 3d heads: https://headz.design/
👩 Get 3D illustrations of adults, kids, elders, pets: https://illustrationz.design/ 
🐢 Get cute 3D animals https://animalz.design/
🏙️ Build your own 3D city https://worldz.design/