Offer!!!!!
This is a beta version. With the release of version 1.0 many new features will be added such as more elements, inclusion of presets through the asset browser, animated elements, etc etc... obviously the price will rise. Do not miss the opportunity and get GeoFlare now

https://youtu.be/19R4UPzIYqM

Considerations:
The lens effect is created very near from the camera, so you have to check your camera clip (near)
The lens effect is created a proportional distance between camera and light, so with very distant lights, the elements move away from the camera and clip can ocurr
If you need more than one lens flare, you have to duplicate de GeoFlare object and fill with the other lights
in cycles sometimes you have to raise transparent max bounces in light paths tab if artifacts happen
in eevee turning on "bloom" is recommended
Depth of field with low F-Stop can ruin the effect
Log:
0.90: launch!
0.91: cycles artifacts solved 
0.92: New Parameters: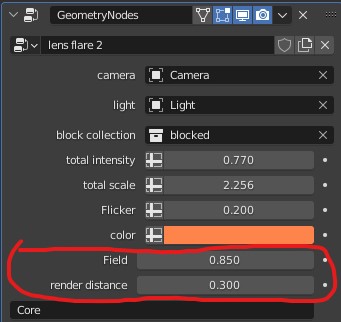 Field:

 parameter to restrict lens effects while light is in the camera's field of view. (Example: 0.9 at 50mm, 0.613 at 18mm)
Render distance.

 Now all elements render a fixed distance, controlled by this parameter. You can tweak if there is camera clip or you are using a low F.stop depth of field
0.93: Blender 3.3 update. Now works in blender 3.3, Eevee and Cycles supported. There are more changes, now each element has a intensity color parameter (hue and saturation for color and value for intensity) and new elements.