Doviux Optimization Addon
---
HOW DOES IT WORK?
It sets optimal subdivision levels for SUBDIVISION/MULTIRESOLUTION modifiers depending on object size, object verticies count, object distance to camera and camera settings(focal length, depth of field).
ADVANTAGES:
With correct setup is possible to cut render times about 20% compared to unoptimized scenes(by optimizing only subdivision levels).
This optimization addon works with depth of field. In scenes with depth of field you can cut render times about 35%.
Works with Multiresolution modifier.
It gives you more flexibility than Adaptive subdivision to choose between performance and scene looks.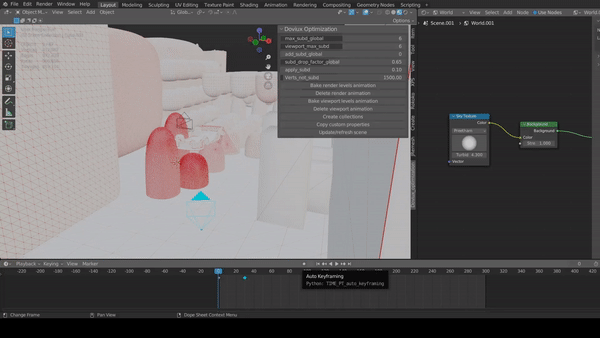 The addon has many configuration possibilities. There is the possibility to adjust global variables for scene settings and add custom property settings for specific objects. This optimization works with animations. It bakes them into animation keyframes.
The addon is simplified to make it easy to use(It may look very complex for the first time but it is not).