Desert Scapes For Blender
---
Desert Scapes
is a
collection 
of photorealistic
desert
plants
,
trees 
and
cacti 
– perfect for
archviz
,
environment 
renders and more.
The library includes 26 species of fully animated, render-ready desert plants, each with up to 8 variations.
Plants Library for GeoScatter 5.3.1 is available! 

The new plants package for Scatter 5.3.1 includes 22 custom-made desert compositions. Achieve fast results with 2 clicks. 


LODify your scene
The free LODify addon saves memory and speeds up viewport performance by converting the plants to low-poly or proxy models with just 2 clicks.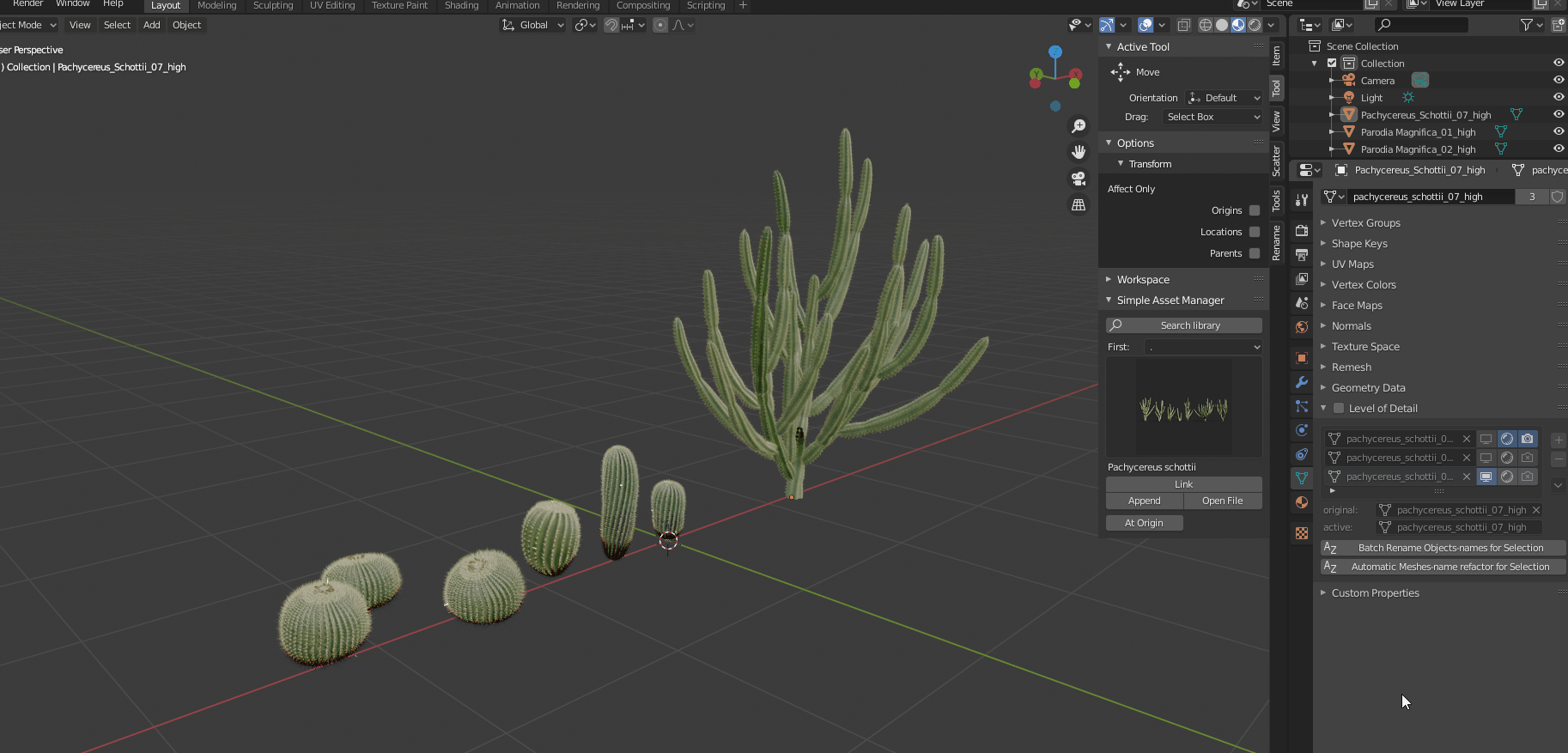 Animated plants? No problem
Making your plants naturally sway with a gentle desert breeze is easy! The collection is divided into two types, static and dynamic. The dynamic assets create loopable animations of 150 frames, at 24/30 fps.
Easily adjust the speed of the motion
To increase the wind speed, just select one of the given options in the Terra Scape Manager: Normal/ Fast/ Fastest. For example Fast will double the speed. Or enter any custom value.
Comparison of Normal and Fast speeds:
Cycles and Eevee, hand-in-hand.
The entire pack uses Principled BSDF materials that work perfectly in both Cycles and Eevee – just choose your preferred render engine and you're ready to go.
Purchase once, get free updates forever!
Buy once, and all future updates are free of charge.
UPDATES/ CHANGELOG: 
•  04/17/2021

- Added loopable animation driver.

- TerraScape Manager 1.0 is included (please remove Simple Asset Manager).

•  04/20/2021 

- Eevee shaders have been re-created.
•  03/29/2023
Added scatpack (geoscatter biomes), added new assets.

Browse our other Scapes: