Cam Switch is an artist-friendly solution for Blender users who want to work with multiple cameras in a more efficient and organized way. With Cam Switch, you can easily access all of your cameras right in the 3D viewport, making your workflow faster and more streamlined.
Cam Switch's popover panel allows you to quickly select, rename, and delete cameras. With different icons, it's easy to see which camera is active and which one is selected. Plus, with the ability to assign a custom shortcut, you can access the camera list panel without ever leaving your keyboard.

One of the best things about Cam Switch is that it doesn't clutter the n-panel, and you don't have to search for your camera in the outliner. Instead, all of your cameras are always visible in the header corner, so you can focus on your work without any distractions.

Cam Switch also offers additional features like the ability to add a new camera aligned to your 3D viewport and resize the panel's width.

In short, Cam Switch is a must-have addon for any Blender user who works with multiple cameras. It solves a basic issue in Blender's UI that should be here by default, and it does so in a user-friendly, intuitive way that will make your workflow faster and more enjoyable.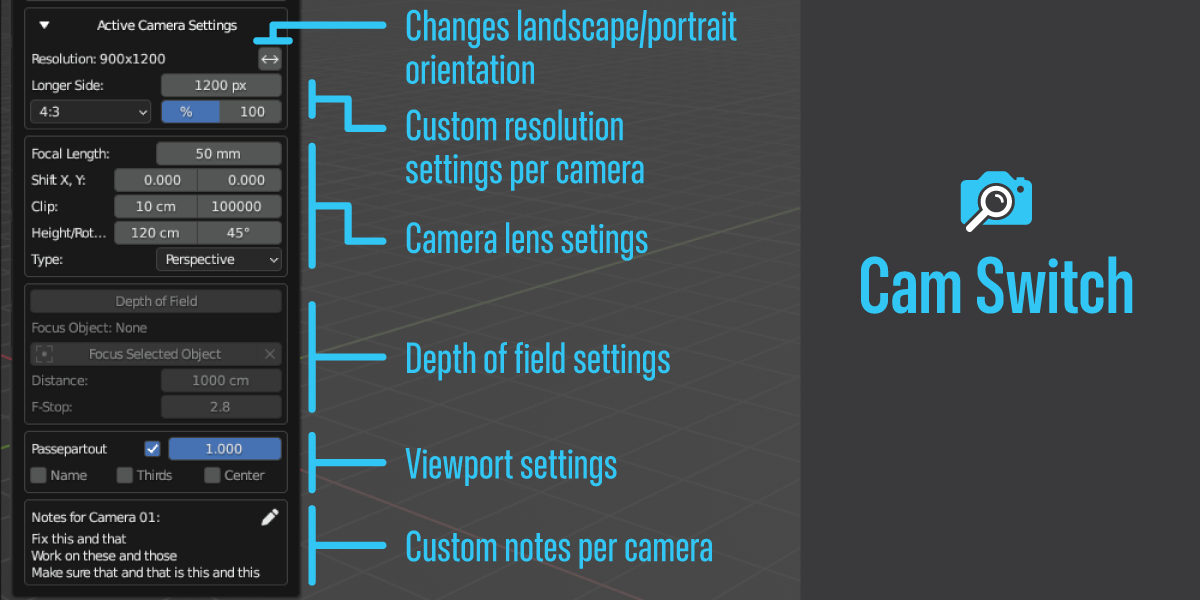 Updates:

v1.1 - New features added: Quick camera settings panel, custom resolution per camera with ratio presets, custom notes per camera. Minor changes in the UI.
v1.0.1 - Minor changes in the UI. Display/hide panel setting in the 3D Viewport feature added.