Alt Tab Studio - Your Workflow Companion
---
Alt Tab Studio Release Trailer
Tutorial link down below ^-^
Alt Tab Studio
Using an addon to improve your workflow in Blender can save you a significant amount of time. Every second or minute saved by streamlining your process adds up to hours of time saved over the course of a project or your blender career. By optimizing repetitive tasks and providing easy access to advanced features,  an addon can help you work more efficiently and effectively, allowing you to focus on the creative aspects of your project.

Features:
50 Cinematic lighting presets to set the mood of your scene with ease
6 Cinematic camera motion paths + record your own and cinematically smoothen the animation
Dedicated procedural lighting generator to create unique lighting setups
Modular material manager view that allows you to view, manage and delete unused materials in your project in various panels
Pop out - Shader editor
One click material baking

One click asset library generation

Camera & Scene management panel that brings all camera, scene and render controls to one UI panel
Utilities panel that gives you options to clean and organize your scene in one click
A project tracker that tracks time and clicks spent on project,

Faster render preview 

method to iterate on your animations faster

Big Picture feature that allows the addon to be opened in a resizable or fullscreen window for use on a second monitor, giving you more screen space to work with and allowing for a more immersive creative experience.
Lighting
Lighting is an important part of your scene, it can make or break your project. With 50 presets, a random lighting generator and the ability to control all your lights in one place, you can experiment with different lighting styles and find the perfect look for your scene and gives you complete control over the final result.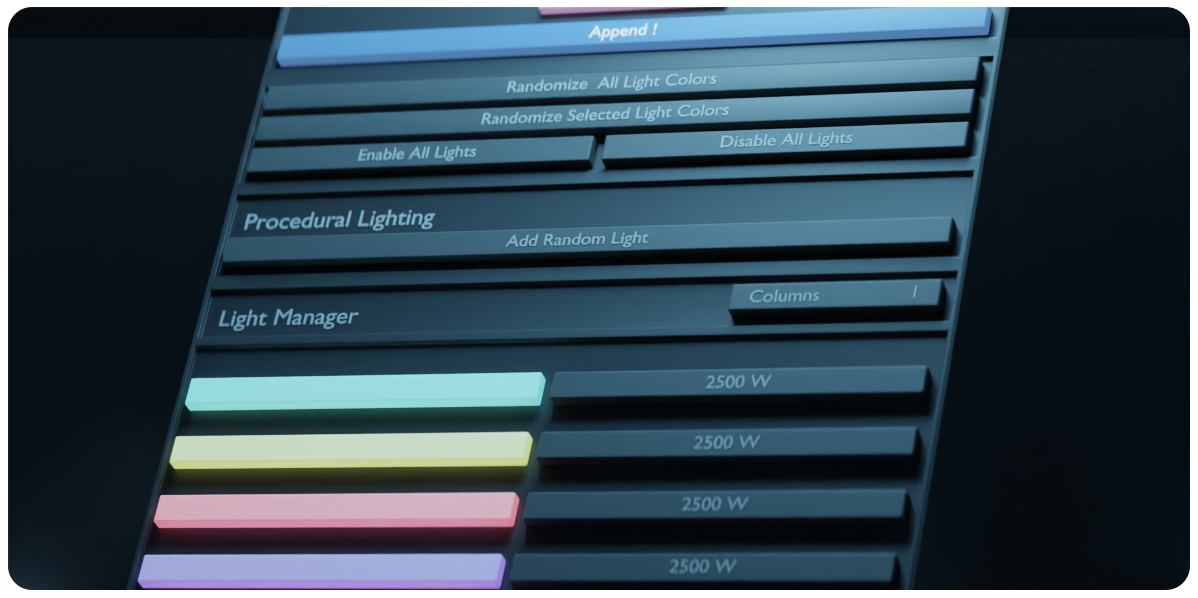 50 Presets
The 50 presets included in the addon are designed to give you a wide range of options to choose from, whether you're looking for a clean white studio look, a cozy warm lighting for a homely scene or creative and cinematic lighting effects. You'll find everything from bright, natural daylight to moody, atmospheric lighting. 
Just want the lights? Look at the Alt Tab Lighting Standalone Addon

Materials

The material manager displays all materials used in your scene on a simple and intuitive interface. This allows you to easily clean your blend file of unused materials, bulk swap materials, and manage your materials with ease. This feature makes it a complete workflow solution for your projects, streamlining every aspect of your scene management.

Control the object's material faster than ever.

Need to quickly adjust a material and don't want to go to the shading tab? Bring the shader editor to you with a small popout window - edit and bake the material to your desired resolution in 2 clicks.
Generate Asset Libraries with 1 click


Camera & Scene
This panel brings all of the relevant camera & scene settings together in one place, making it easy to find and adjust the settings you need.
A standout feature of this panel are the preset camera paths. This can save you a lot of time and help you quickly create dynamic camera shots. Additionally, you can record your own camera motion and use the smoothing function to create smooth and professional-looking camera movements. This feature can help you add an extra level of polish to your animation and take your renders to the next level.
Control all camera and scene settings on one panel.
Utilities
The Utilities Panel helps you optimize and organize your workflow. With it, you can easily clean up your scene by organizing your scene elements into collections based on type, making it easier to navigate and manage your scene. 
It also features project statistics which show you the time spent on the project and the amount of clicks made, giving you an overview of your workflow and how efficient it is.

Scene optimization & cleanup
Quick render preview, which allows you to get a fast animation preview that is much faster than any other render - this feature can save you a lot of time and help you iterate faster on your animation and allow you to start editing your scene before the overnight render even begins.
Clean up your outliner with 1 click and color your solid viewport based on the number of vertices models have - a quick and easy way to see the complexity of your scene.


Asset Master

Introducing Asset Master, the ultimate Blender add-on that revolutionizes the way you manage your assets. With Asset Master, you can mark objects, materials, node groups, collections, or selected objects as assets with ease. The add-on then generates asset browser previews and automatically adds a copy of the file to the file paths in your asset browser.

Features:
Mark 

objects, materials, node groups, collections

, or 

selected objects

 as assets with ease.

Generate 

asset browser 

previews 

for easy identification and organization.

Automatically add 

files to the

 file paths 

in your 

asset browser.

Streamline asset management process and save time in your workflow.
Intuitive and user-friendly interface.
Ideal for both small projects and large productions.
Efficient and organized asset management.
See Asset Master standalone product here.

Big Picture Mode
The "Big Picture Mode" is an innovative feature that takes the addon from the N panel and displays it in a resizable window.
This allows you to have the addon on a second monitor or any other screen of your choice, giving you more flexibility and control over your workflow. It also gives the user control over the UI elements size and other parameters, so you can adjust them to fit your needs and preferences.
This feature can be extremely helpful when working on large projects or when you need to have a better overview of your scene.
Small Menus
Small popout panels are based around the type of object selected. These panels allow you to easily access and control specific settings without having to navigate through multiple menus. For example, if you select a camera, you will get quick camera settings, if you select a light you get light controls, for mesh you get mesh controls, etc.
Other
Take care of some repetitive tasks - volume cubes, infinite or studio backdrops, throw in a rigged human for scale...

Tutorial & Showcase :) 
Disclaimer:
Only works on windows!