3 In 1 Geometry Node (Wall Builder, Spider Web, Rockyfy )
---
3 in 1 Geometry Nodes
you can purchase all individually on my page
With this bundle you will purchase all 3 of geometry node
Wall builder
Wall builder is a geometry node based file, where you can simply just draw a line or curve or anything you like to be the shape.
Very simple to use, you can just append it from the blend file, or you can use the original file straight away.

If you are not familiar with drawing curves, you may need to check your set-up to make sure it set on surface as seen below.
Once is set, you can just pick the drawing tool from the left hand side /if is nothing shows there just press 'T'/ and just start start drawing your masterpiece.
You have some option to set up missing bricks if you don't want your wall fully completed, you also have access to move the bricks from each other giving a really good look like you would use displacement.
All these setting are under the geometry node once you apply it so you only need to move the slider left or right.
You also can set up the high of your wall to be on the same level everywhere or you can just pick the vertexes where you wish to be lower or higher and just change  them locally.
As you see here, I just clicked on the first few vertexes and increased the Mean Radius to 5 so it build it up.
This picture shows that the middle vertexes are set 6 so the wall is higher in the middle. 
Spider Web Generator
With this Geometry Node based blend file yo can set your scene on a different level.
HOW TO USE
After downloading the blend file you can append the geometry node from it or simply just use the downloaded blend file.
All object you want to apply the web on have to be in the same collection. 
All ready to go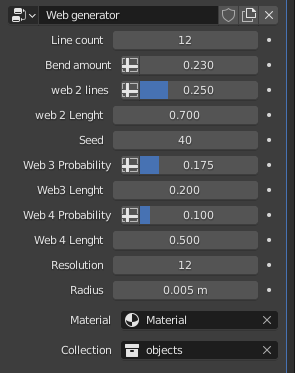 You have a lot of setting to tweak it to make sure its looks how you like it.
Simply go to the modifiers tab and change the numbers or move the sliders
You can set up multiple collection or single item.
Set your own material or set different colors. 
You can move your objects around the spider web will follow it along so you don't need to recreate it. 
Rockyfy
Rockyfy

 is geometry node based blendfile.
With this you can make everything looks like it made out of rocks.
Main functionalities are having group inputs and all named to be as user friendly as possible.
You have access to set up up new material, rock sizes, also if you want rocks together in chunks or have every single one separated.
If you looking for just a simple path with rocks is also a solution for you.
Just open geometry node and follow the instructions.
There you have 3 more option to play around such as how many rocks you want or how long and how wide you want to make your path.
Simply grab the mesh output from Grid and drag it into Mesh input in Triangulate Node. 
With this easy step you switched from object path.
| | |
| --- | --- |
| Published | 12 days ago |
| Software Version | 2.93, 3.0, 3.1, 3.2 |
| License | GPL |

Have questions before purchasing?
Contact the Creator with your questions right now.
Login to Message