What is Ultra?
Ready for blender 2.79-2.81+2.82+2.83+2.9 Windows-linux-Mac
Don't miss the material you have in your projects ... Save them all in your library in 1 click!
See how:
It's not just a Batch system, look for yourself:
We have noticed that we often download 3D models with beautiful materials, and every time we wanted to have them available without having to go and recover the project in which they resided, a good waste of time, and a boring operation, especially when working seriously.
Included in the download is a user manual that will explain how to install and addon features. We have taken some time to do this, but we think it may be useful.
Very easy batch save and store of all materials in the project:
This internal model was made by BD3D, and is available at This link
The convenience of having all the materials applied to the all objects available in this panel.
You can easily search for the material you need through this panel, you can rename the materials, replace them or delete them, all from the UMSS panel
Check the materials in a fantastic scene with painter's easels with a lighting system true to reality being able to discard unnecessary materials. The lamps really move with the controls on the panel.
We think this could be useful for presenting your materials
Switch to creating your favorite trophies control the trophies with very easy controls , position the camera as you prefer (Just place it once, the rest is automatic)
Trophies are also animatable at this stage all the controls are in the panel:
Yes, the background color changes to every saved material, we told you that we wanted to pay the eye, not only, this allows us to see the progress of the rescue, without fearing that it has stopped. (This step can be stopped as a real rendering)
Now you have all your materials saved and always ready to use:
Now you can easily find your saved materials, we have included a search that finds all the materials of any category.
We have taken great care over the details and also the panel, we think that the eye also wants to be happy.
The arrows are used to change material and category without going inside it.

You always have control over how many materials per category and the numerical index.

The arrows turn orange when there is nothing left to show.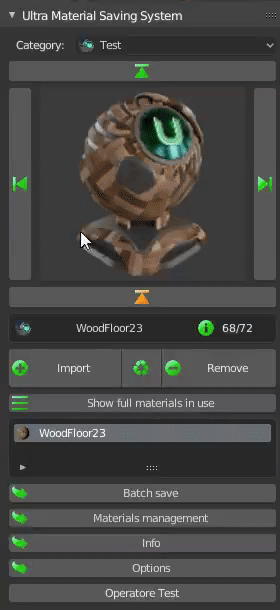 You can easily change the HDR backgrounds already present in UMSS, these serve to illuminate your trophies
We think that the possibility of creating many types of personalized trophies is one of those things that make you enjoy eyes
During the programming of UMSS we decided to include functions that have never been seen before on blender, to be honest these functions seemed fantastic to us, the fact of being able to assemble personalized trophies without becoming mad. We know that innovation is sometimes not welcomed, well ... we are "crazy" and we did it.
As you may have noticed, the panel takes on different functions, depending on what you are doing.
This is the panel during the trophy assembly phase:
Why "Trophy assembler"?

I think this is still an experimental phase, and we would like to understand from our customers what they think and if the experience on it can be improved, let's be honest, sometimes our customers have good ideas for improving the experience.
It will seem crazy, but we also have buttons buzzing to easily animate the trophies (I told you we're crazy) Why?
We liked the idea of presenting materials in an alternative way, we believe that sometimes we can be less boring.
Inside the panel we have included 4 useful information about:
Here are some examples of  previews:
Your icons will have the look you want, they can also be simple cubes, spheres, or cylinders.
Inside we included 72 PBR Materials from the From the best online CC0 libraries:
Little tutorial on youtube:
Hey, don't worry I'm well trained and I'm here to help you
If you have any questions contact us, we are very happy to answer!  
If you have a problem and have read the instructions correctly, but cannot resolve, write us, if you have any suggestions, they are always welcome! Customer support is important
Update Info:
[
#01-09-2020
#Update_version_1.0.41 for blender 2.9
#An error in the new version of Blender 2.9 when saving. Revised and corrected!Version 1.0.41 is now available
]
[
15-05-2020
Update_version_1.0.40 for blender 2.83
The texture packing system has been improved
For more security, the background color that alternated during the batch save has been removed
Now the "Start Batch Save" button once pressed will start immediately.
]
[
#18-10-2019
#Update_version_1.0.32 for blender 2.79 - 2.8 - 2.81
#This update was performed thanks to a customer who reported a bug on the Machintosh platform. We have run various tests with progressively numbered versions, we currently publish the working version which is 1.0.32 This solves the ".DS_Store" problem on macintosh that is no longer routed and indexed in the categories and allows the interface to function correctly.
]
[
#09-10-2019
#Update_version_1.0.1 for blender 2.79-2.8-2.81
#Update to blender 2.81
#Fix for Primitive trophies , Now they can be animated through the Ultra panel
]