Metropunk Neon Skyscrapers - Cyberpunk Kitbash Greeble Assets
---
Discover our 
high-quality and versatile
assets.
Discover an unprecedented cyberpunk world! Immerse yourself in a neon-lit, dystopian future using our MetroPunk Cyberpunk Themed Assets. This meticulously crafted collection offers an immersive journey into a high-tech, radiant universe. Experience futuristic cityscapes, mind-bending visuals, and cyberpunk-inspired lights brought to life in astonishingly lightweight assets. Elevate your creative projects with this unique cyberpunk experience.
WHO
ARE WE?
GREEBLE TOWN is the ultimate destination for premium sci-fi and hard-surface kitbash greeble assets. We specialize in crafting the finest sci-fi and hard-surface-themed 3D greeble assets. Our PBR textured assets are intentionally versatile, efficient, and lightweight, designed for easy scattering, making it effortless to create breathtaking,seemingly complex and expansive scenes with unparalleled ease. At Greeble Town, we live and breathe our passion for crafting top-tier, premium-quality yet cost-effective sci-fi and hard-surface kitbash greeble assets. Our mission is to empower your creative journey with assets that ignite your imagination and elevate your projects to new heights.
BEST
FEATURES
250+ Mesh Objects
45+ Main Assets
Extra Assets
Lightweight Mesh Density
A lightweight mesh density helps in a smoother real-time performance in 3D applications, ensuring optimal user experiences.
PBR TEXTURED-UVS UNWRAPPED
Available in 1k,2k, and 4k resolutions. 1K and 2K resolutions are recommended for the intended use of scattering in massive scenes.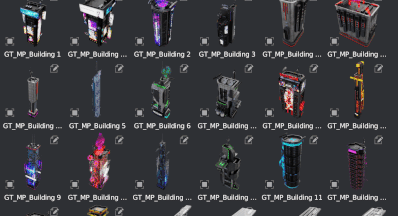 ASSET BROWSER READY
Categorized with clean previews to provide quick access to reusable assets.
SCATTER FRIENDLY
High performance for scattering in massive 3D environments.Premade Scatterpacks available for the Free Biome-Reader or Geo-Scatter plugin.
AVAILABLE
GEOSCATTER

BIOMES