If you're loving creating scenes like me, You may have the same problems like me. And sometimes I need to create a Neon Sign. And this can be really time consuming. That's why I created this tool, to help everyone who wants a Neon Sign fast an easy :)
Please, have a look at this page to see what you can do with this setup :) -> https://www.blendermarket.com/products/easy-neon/docs - if you have any questions, just let me know :) 
UPDATE 1.7

- There are some Bugs with Blender 3.4 -> Please use V1.7 with Blender 3.4 and above.
- You can now turn the holders on and off.
UPDATE 1.6
You can use up to 20 slots for your typo. 
If you have a font or svg with really close lines, you can adjust now the bool to avoid intersections.
UPDATE 1.5
You can use up to 10 slots for splines in the SVG-Version now.
UPDATE 1.4
Holders can be turned off now.
SVG import / spline support to create graphic like neon signs.


UPDATE 1.3
Now you can rotate the letters individually.
UPDATE 1.2
Now you can adjust the Z Position of the extrude. 

UPDATE 1.1
You are now able to control the inner neon and the outer neon separately! If you're using letters like "A","O","B" or something else :)  
Adjust neon letters

Adjust holders

Extrude your Text

Enable depth plate

Adjust size of the extrude

Add cables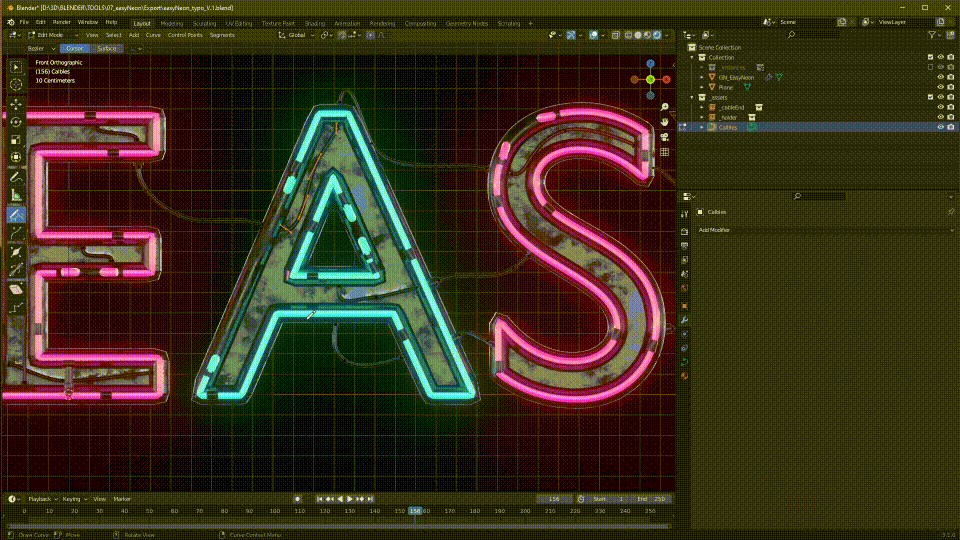 I hope this Tool will help you and you have a lot of fun with it :) 

Thank you for the support!