Start your
Blender Business

today

Welcome to the only marketplace built by Blender users to support the Blender community, Blender artists and Blender development.

Earn up to 95% of each sale while having the option to donate a portion of your proceeds to the Blender Development Fund.

Sign me up!
Invest in future Blender Development
Blender is important to you and it's important to us. Which is why we have built functionality to enable creators to easily, and automatically donate a portion of their profits to the Blender Development Fund, thus empowering more creators to help support Blender
Perks of being a Creator on Blender Market
Quality Assurance Reviews
It's more than an approval process, a member of Blender Market crew will download your item, test it, and ensure it is ready for the spotlight.
Keep Your Customers in the Loop
Wish you could email your customers directly? With Blender Market customer messaging feature you can reach all of your customers straight from your Creator Dashboard.
Open Creator Collaboration Channel
Don't get stuck in a silo, ping ideas and collaborate with other creators on the market in this private Slack channel for Creators only!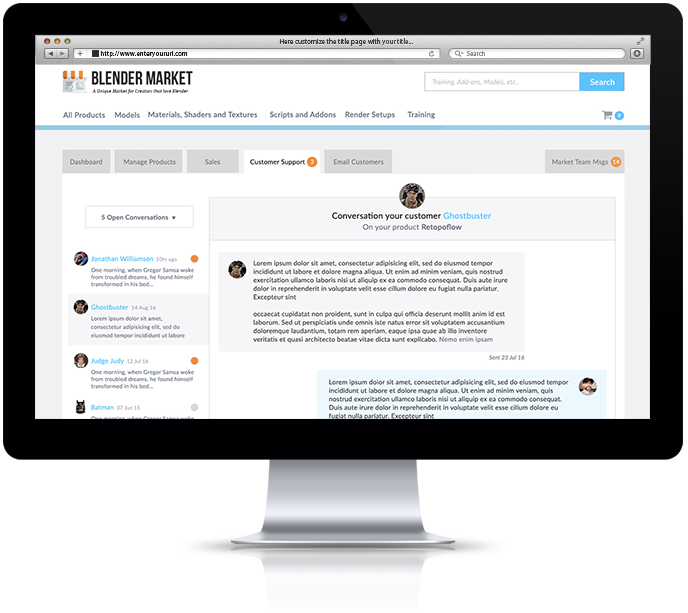 Keep your customers happy!
Creating a product is only the first step, keeping customers happy through great support is essential to building a sustainable business. On Blender Market you can reach customers any time and they can reach you, right through a direct messaging system for easy product support. A happy customer is a repeat customer.
Blender Market is a nice opportunity to share your own assets within a professional environment and the best thing is, that you spend a small portion, into the future development of Blender.
Alexander Weide
The Blender Market is fantastic! Not only did it open up a form of income for people in the Blender community, but it also made things possible to create.
I think many can agree with me that a lot of the addons, models and assets would not exist if it wasn't for The Blender Market.
Mason Menzies
Blender Market has made it easy for me to share and earn money with the very addons I create for myself, it is integrated on our community, that is follows the rules of Blender project so we developers don't have to worry about it. Blender Market is really a very important part for our success as 3D artists and community.
Francisco Elizalde
Earn up to 95% commission on each sale, no strings.
Join a unique market that supports the Blender ecosystem with the best products & training
See pricing and commission rates on the Pricing page.
Sign me up!