Vertex Group Utils
Vertex Group Utils is an add-on that adds utility to blender's vertex group. It adds many feature that turn vertex group into a tool for you to use in modelling process. This add-on can help you manage your meshes in edit mode by letting you to hide and unhide mesh base using vertex group.
This add-on is located in the side panel, so you don't have to go to properties to work on your vertex group.
FEATURES
Create Vertex Group Quickly with less click
Solo, Hide / Unhide, Select / Deselect Part of mesh using Vertex Group
Join Objects as Vertex Groups
Separate Vertex Group into Objects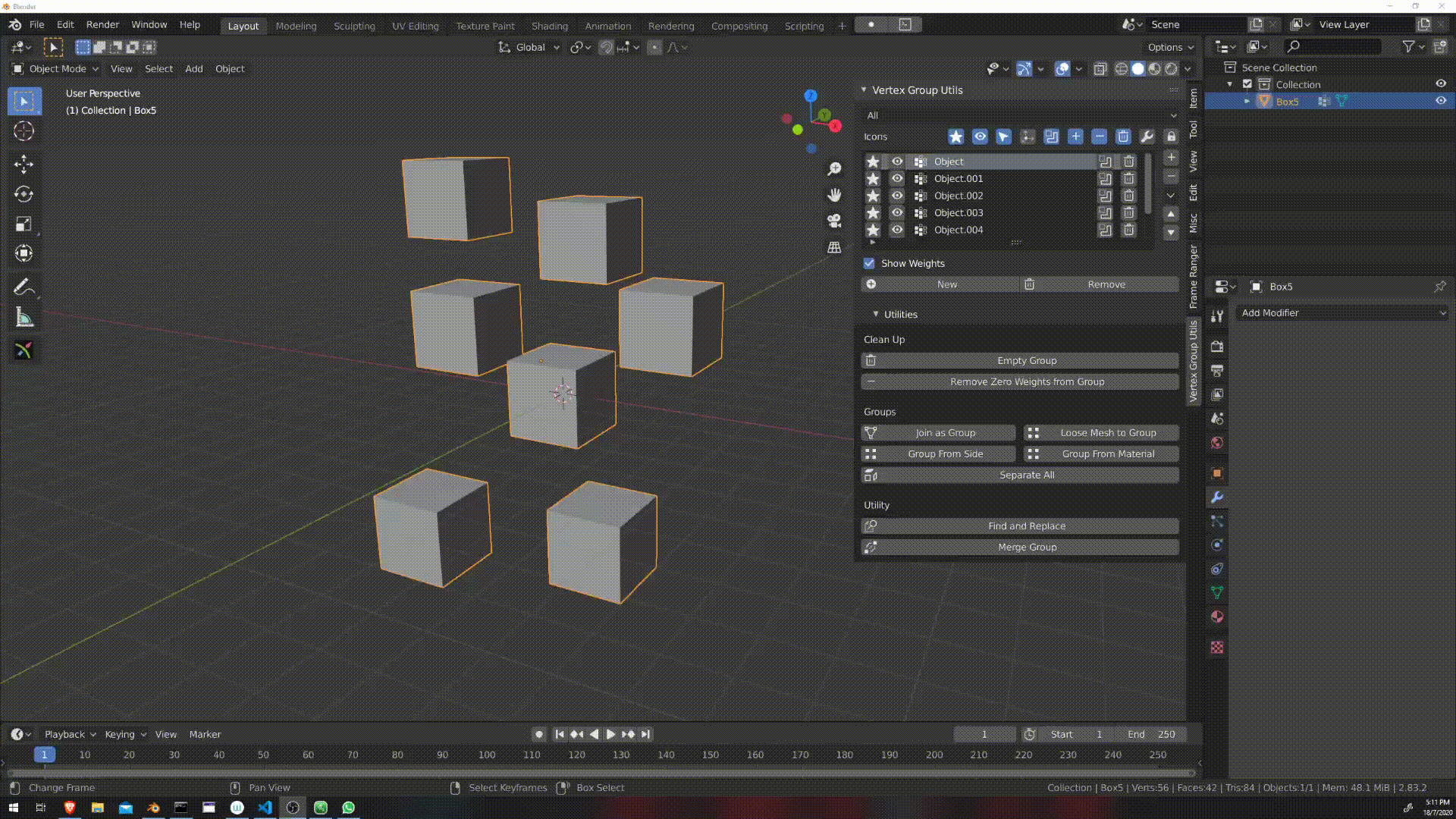 Material to Vertex Group
Side to Vertex Group (Origin as Center)
Set Origin to Vertex Group
Merge Vertex Group
Other Features:
-Pie Menu
-Separate Vertex Group to new object
-Solo or Hide / Unhide part of mesh in Object mode (Using Mask Modifier)
-Remove Empty Group
-Remove Zero Weight from all Groups
-Find and Replace Vertex Group Names
-Reassign Vertex Group
-Unassign Zero Weight
-Unassign All Vertex from Group
-Unassign Vertex from all Vertex Groups
Planned Features:
-Solo Vertex Group - Done
- Material to Vertex Group - Done
- Set Origin to Vertex Group - Done
- Vertex Group to Face Sets
You can suggest more in Discord Channel
Changelog:
Version 1.9
1/9/2020
-Fixed Material Remove when try to separate
-Separate All will remove the master object if there are no vertex left
-Separated Object will move to the same collection as the master object
Version 1.8
18/7/2020
-Added Set Origin to Vertex Group
-Added Material to Vertex Group
-Added Option to Hide Icons from the Vertex Group List
-Added Show Weight Button
-Added Remove Zero Weights from Groups
-Added Create Vertex Group from on Side (Origin as center)
-Utility Function Moved into Subpanel
-You Can now change your shortcut for Pie Menu in the Preferences
-Remastered UI
-You can Filter Vertex Group
-Reworked Pie Menu
-Vertex Group Utils 1.8 is rewritten and is made into a zip instead of a py file
-Shortcut Key for Pie Menu changed to shift-alt-v
-You can change the shortcut key in the preferences
Version 1.7
13/06/2020
-Added Solo Group
Version 1.6
06/06/2020
-Added Merge Vertex Group
-Added Find and Replace Vertex Group Name
-Hide Vertex Group for Object mode also work for both viewport and render now.
-Added Pie Menu (Shortcut Ctrl Shift G)
Version 1.4:
24/5/2020 Vertex Group Utils: Released!
Links:
If you want to suggest an improvement or report a problem, lets discuss it in Discord Channel