Car Transportation - Addon Car And Vehicle Rigged Cars Library Car
---
TRANSPORTATION - CARS AND VEHICLES RIGGED LIBRARY ADDON FOR BLENDER
Best Add-on 78 Cars and Vehicles rigged for Blender - Cycles and Eevee - HD and LOWPOLY - Asset Browser Ready !
Transportation is a complete Blender add-on that does not only help manage a huge library of HD vehicles and cars rigged on Blender. but also, shaders, hdri and backplates. With Transportation you can create incredible images in few seconds!   It is ideal for architects, designers, and CG artists. 
Transportation contains more than 78 HD models of vehicles of all kinds: Truck,sport car, SUV cars, 4X4, airplane, motorcycle, bicycle, classic car, sedan cars, urban car, public transport, tractor, rally, boat, emergency car, electric car, formula 1, leisure vehicle...
In 2 clicks, choose your vehicle category from the 78 HD models PBR READY and import it into Blender, change the color of the car using our already configured car paint or create your own car paint with our editor.
65 HDRI are included in the pack, professional HDRIs optimized for Blender. no slowdown, no crash, it's fast and super realistic.
Add a backplate, more than 300 available, in the background to embed your car in an image and get a photorealistic rendering in seconds!
Transportation is compatible with Eevee but also with Cycles!
ALL NEW UPDATES INCLUDED!



VEHICLE AND CAR 3D
► SUV cars


► cars 4X4 
► Bicycle


► Emergency car


► Boat


► Electric car
► Leisure Vehicle


► Car Rally


► Motorbike
► Plane


► Public Transport


► Sedan cars


► Sport cars


► Formula one



► Tractor vehicles


► Trucks


► Urban car


► Classic Car




FEATURES
Beautiful and easy interface
To make the use of Addon pleasant, the interface has been designed for the user. It is modern, functional and easy to use. even for beginners! Open the "N" panel to see the Transportation tab and have fun!
HD AND LOWPOLY Vehicle
This amazing new feature allows you to choose the quality of the model you want to import. HD for "high definition" is the most realistic model, but also the most demanding in performance. the Low poly version is much lighter and also rigged ! Use the lowpoly version for vehicles in the background, or for scenes with lots of vehicles to improve performance.
Snap to ground your car and vehicle
Easily stick the vehicle on your surface with the SNAP TO GROUND button
Make editable vehicles
Models can be edited easily with MAKE EDITABLE button. You can change the mesh, materials, textures. Models are 100% customizable!
Rigged car and vehicles 
This is the great novelty! A lot of rigged vehicles are available. You can see in the pictures the vehicles with the small "rigged" sticker are animable.
By default a lot of animation functions are available in Blender and Transportation but if you want to go further in the animation of your vehicles you can download RIGACAR for free on this page : http://digicreatures.net/articles/rigacar.html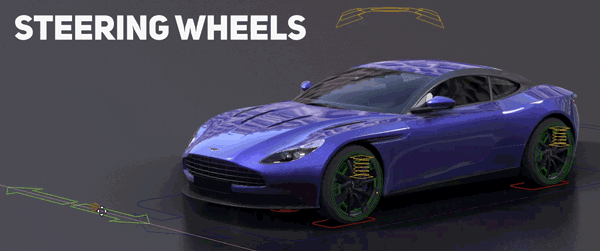 Viewport - Eevee - Cycles
All models work with Eevee and Cycles. You also have a faithful rendering of the car paint colors directly in the viewport. Pleasant and easy-to-use workflow!


Asset Browser Ready
Transportation is available for Asset Browser. You don't want to use the addon, but simply group all your resources in one place? the Asset browser is designed for that!

Customize carpaint for your car
Transportation offers a wide range of more than 70 carpaint shaders! Metallic carpaint materials, matte carpaint, but also shiny carpaint. And soon more!
Carpaint materials, matte, shiny or metallic ?
Choose your style
Creat carpaint
With Transportation, you also have the possibility of creating your own car paint color from 3 presets (metallic, matte, glossy). You now have endless possibilities!
Use HDRI
In Transportation you have 65 HDRI included in the add-ons. Professional quality HDRIs to create amazing renderings in few minutes!
Add backplates for amazing CGI render
For each HDRI you have many backplate images that you can insert in the background of your images. HDRI gives light, shadows, reflections...
Backplates allow you to insert a 3D vehicle directly onto a high-quality image for incredible rendering.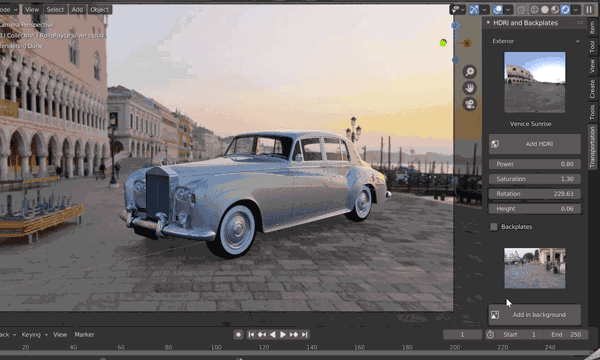 Use transparent shadows
In 1 click create a transparent shadow on the ground. A perfect integration for a perfect image!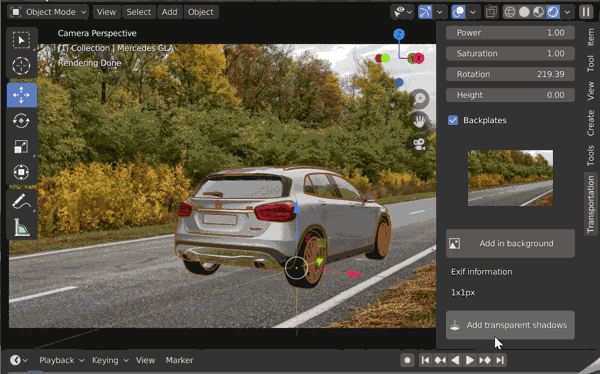 Real size Vehicles and cars
All vehicles are at the correct scale in Blender. No need to worry about its size... Easy to use, easy to position and easy to handle!

Beautiful mesh, nice topology, clean wire !
A beautiful mesh topology is a sign of quality. the reflections of the bodywork will be faithful to reality. weight is optimized for Blender. handling and modification becomes easy!
65 HDRI
Optimized for Blender Cycles and Eevee
Transportation puts at your disposal 65 HDRI optimized for Blender! Photorealistic rendering, fast with no bugs, no crash.
Good or bad HDRI?
Most of the times HDRIs are very heavy, chargeable, poorly exposed. How many times have we sent an HDRI image and the Blender could not load it because it was too heavy?
When we finally found an image that was the right size for Blender, the colors and lighting were wrong, the rendering was poor...
Some have proposed half of HDRI (that is only the sky without the ground) this is a good solution for Blender because the images are less heavy. But that does not allow a realistic rendering. Light is everywhere, in the sky and on the ground. It makes photons that permit the creation of realistic lighting! beautiful reflections of refractions and more to bounce.
In Transportation all HDRIs are 360° with sky and ground. they are all optimized for Blender to save time and productivity.
Why HDRIs are so powerful?
If you compare a classic lighting in Blender with the Sun, it gives a flat rendering, with clear shadows, no reflections, no brightness, no refractions. looks like a bad packshot!
HDRIs contain a great deal of information about colors and brightness. They will project millions of light particles in your scene.
In real life it is not only the sun that emits light, but the ground, walls and trees also do. Each material (depending on its properties) reflects light. In 3D it works the same way. The more accurate the HDRI map, the more incredible your rendering will be! Look at the difference yourself!
Optimized for Blender
Optimized loading time - Fast rendering - Photorealistic quality.
Each HDRI in the Transportation pack is optimized for Blender. They are neither too big nor too small but perfectly adjusted to obtain realistic lighting and very fast rendering! They are averagely 90% faster than paid HDRIs!
Quality of hdri
All HDRIs are of professional grade. Colors, lights, contrast are specially adjusted to suit the 3D software.
The highlights are amazing, the shadows are crisp and precise.
Achieve incredible 3D renderings in just seconds!
More than 300 backplates
All HDRIs delivered in Transportation contain multiple backplates. These images were taken at the time of HDRI, so you can make a 3D overlay in a photo with an HDRI that was taken in the same location!
Why use backplates? It is possible to only use an HDRI for the background, but it is often distorted, of poor quality, the line between the ground and the sky is flattened, it does not make beautiful pictures.
Use backplates, adjust your camera focal length, match perspective to create incredible images!


Compare Transportation








Pro Pack - car and vehicle
How much does the Transportation add-on cost?
$99 for the Pro version and $69 for the Lite version.
In the Pro version you have 78 3D HD vehicles.
This represents : 78 vehicles / $ 99 = $ 1.3 per vehicle !!!
Do you know how much a good model HD car costs on the internet?
At least $ 100 each! you save at least $ 5,000 with Transportation and on top of all that you have HDRIs, carpaint and backplates and it's ready for blender!
We support the Blender Foundation !
Without Blender, Transportation would not exist! we must thank Ton Roosendaal the creator of Blender, thanks to him and his teams of developers we can use a powerful and user-friendly tool for our 3D creations. We donate part of the earnings to the Blender Foundation so that it can grow and develop.
Transportation in pictures
We thank the 3D artists for working with Transportation! they create amazing pictures!


Artwork Transportation 2021
RELEASE LOG :
Transportation  V4
13 new vehicles + asset brower ready 
Transportation V3

LOW POLY and HD car !

5 new vehicles
Transportation V2.2

5 new vehicles
Transportation V2

More than 46 models rigged for Blender
Transportation V1.2

- 5 HD 3D models

- 12 new photorealistic carpaint shaders

- 5 new HDRIs (4 exterior and 1 interior)

- 18 new backplates

- transparent shadows is now campatible with Eevee (beta)

- improvement of the realism of 3D models

- color improvement (black and white) of existing models

- various bugs fixed in the addon

- correction of the preview colors in the viewport

- planes can now change color.
Soon...
We are working on a new version with more 3D models, more HDRIs and backplates and even more realistic textures and shaders and incredible functionalities.
Stay connected !
We want to see your achievements and share them with the community
ENJOY !
FOLLOW US !
DISCOVER OUR OTHER ADDONS