The Cloth Library Addon For Blender Version 4
---
update: december 2022 cloth library content update 




new clothes:
we have added a 24 new cartoon/stylized cloth content that we think you might like
with 4k pbr textures
all new cloth items use a single pbr texture set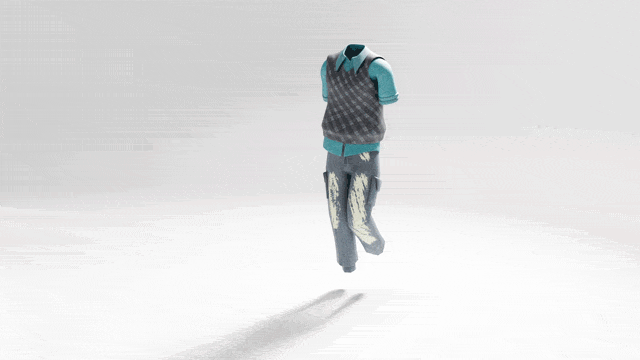 The CLoth Library Pro Version:
New and improved interface
all cloth elements have fabric materials/textures
40 more clothes + all base version
material library  An Easy way to switch cloth materials/fabric"
Introducing premade pose mode:
If your character pose does not match with a premade asset, no worries, now you can just select the premade asset and enter pose mode to pose the garment so as it matches your model pose
Introducing Pattern Mode.
In the same way you can adjust premade poses, you can now move, rotate and scale, simulatable patterns by heading over to the pattern pose Mode in Simulation mode.
Introducing Sculpt Mode:
Both Premade and simulatable assets have a sculpt mode now, though you have to apply the cloth simulation for simulatable assets first to sculpt the cloth
Adding extra wrinkles is now as easy as heading to the post simulation panel and use the cloth brush 
The Cloth Library Addon
The addon made to make you life easier, turning hrs work into something that could be done in minutes.
The cloth library is a two mode addon, the library called premade mode and the simulation system.
The library is a collection of ready made cloth garments that are one click away, they are made to work seamlessly with your model. all you have to do is to make them fit, and now with the new premade pose mode, that is also easy to do.
made with the cloth library addon
The simulation mode also comes with a library of its own cloth assets, this time around these assets are sewing patterns that work with the internal blender simulation system.
the way they work is very simple, if you want a shirt, just select the type of shirt you want in the categories and the addon will link the suitable sewing patterns into you scene.
Then you can align those patterns with your character and press play on your keyboard. Pattern alignment is also now much easier with the new pattern mode.
You can now move individual patterns by the help of pattern controls in the pattern mode
There are several options to choose from,
For ease of use a male and female model is packed in the addon, you can match the pose of any of the characters so you clothes don't require scaling. you just check use pose dummy and the base model will be added to your scene, you can also simulate onto this mesh directly as all collision properties have been setup.
if you however want to use your own custom model, its again a good idea to enable the use pose dummy to much the pose and scale.
you will also need to make sure any models or objects that you want to take part in the simulation have the collision property turned on in the physics settings