Procedural Building Generator 2
---
New update: Add Interior Mapping to your buildings!
With the new node group Fake Interior, you can easily add pre-rendered rooms behind all windows. The rooms appear to have depth, but are actually just one polyon each. This makes them really cheap to render. 3 room sets are included in this update.

Need custom buildings for your scenes?
PBG 2 is a Geometry Nodes-based tool that generates buildings based on your meshes, with the ability to edit them in real-time!
Creating custom buildings has never been easier
Using PBG 2 is as easy as opening the Asset Browser and dragging-and-dropping Presets onto objects. After that, you can edit the building shape simply using the regular tools of Blender; extrude, move, add loop cuts and more. In a few minutes or even seconds, you can model a render-ready building that is tailored to your requirements!
PBG 2 comes with a diverse set of building styles that you can mix and match to create a specific building style.
Turn meshes into buildings
The special thing about PBG 2 is that the generated building adapts to a mesh in its entirety - not just a 2d "floor plan".
Take Suzanne, a character mesh or any complex 3D building shape, drop a Preset on it and PBG 2 will make a building out of it.
Don't forget to scale your buildings appropriately and apply scale with CTRL+A.
---
What's new?
So what's actually new in PBG 2?
PBG 2 is a completely different product from Procedural Building Generator. It has been rebuilt entirely from the ground up, with a much better structure. This has lots of benefits:
It is even easier to use! In PBG 1, importing a template was a bit finicky. Now, you just drag-and-drop a preset on your object.
More functionality: Support for simulations and different styles on different floors are among the things that weren't possible in PBG 1.
More adaptive: PBG 2 adapts better to meshes overall. Here's a comparison:
Also, owners of Procedural Building Generator get a discount for PBG 2! Use code "pbg1".

---
Modular
PBG 2 was built to be modular at its core. You get 9 different node groups (read more about them in the documentation):
This allows you, for example, to have different styles on the top and bottom floors:
---
Simulations
PBG 2 has experimental support for deforming meshes, meaning you can add cloth simulations, armatures and more to your buildings. Just add the "Preserve state" node group before the deforming modifier.
---
Included styles
The base version of PBG 2 comes with a set of varied building styles, but you can also get more packs, or make your own!
Base styles:
Kowloon Walled City-inspired
Half-timbered
Wooden
Pueblo architecture
Swedish cottage
Historic building styles (pack):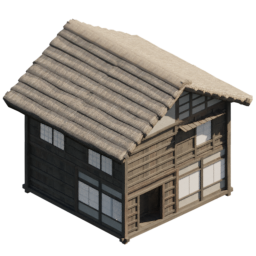 Minka (Japanese)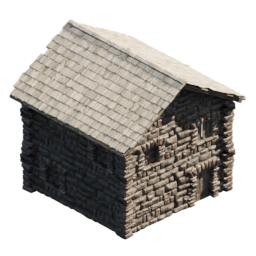 Stone
Timber
Viking
This pack contains 4 historic building styles.
Note: These styles are not 100% historically accurate, but rather inspired by various historic and contemporary architectural styles from around the world.
---
Documentation
Read the documentation here. Tutorial coming soon!
---
License
You are allowed to use buildings generated using PBG 2 in any way you want, commercially and personally. Credit is appreciated, but not necessary.
You may not redistribute any of the node groups themselves, neither for free n or commercially.