Build Massive Cities With Ease, Without Melting Your PC!
...Example scene rendered in Cycles
Craft expansive medieval city scenes without sacrificing performance. 

...Drawing city Blocks with the Geometry Nodes setup
...Geometry Nodes settings
Effortlessly transform curves into adjustable city blocks and enjoy the freedom of "drawing" your own urban layouts with the integrated Geometry Nodes Setup.
Every Object and Collection can be easily replaced or modified.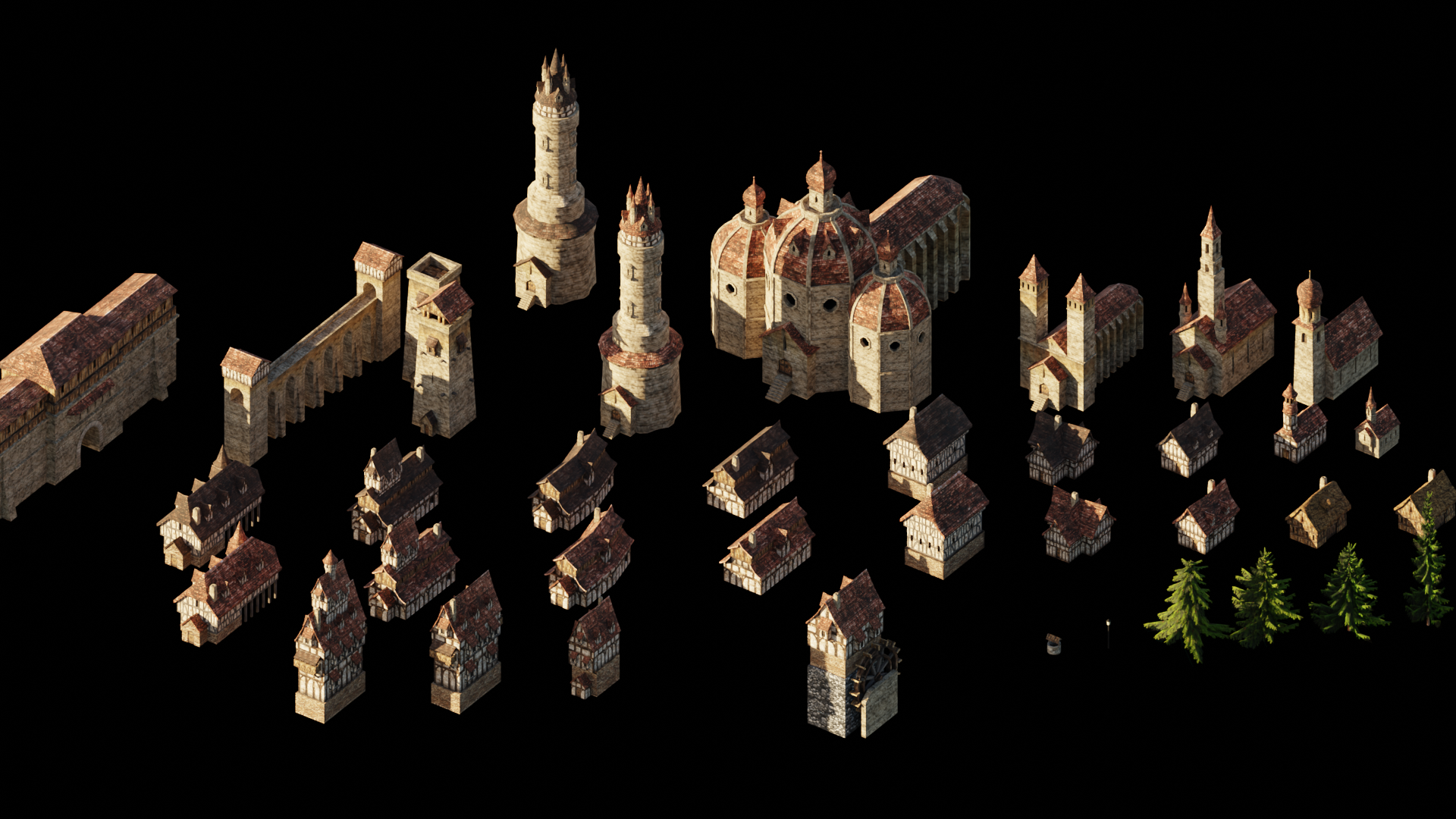 ...Assets. Cycles render, wireframe
The low-poly, yet realistic assets strike the perfect balance between detail and efficiency, allowing you to build visually stunning urban environments without overburdening your system.
The buildings make use of a single shared trim sheet texture that was specifically designed for this pack.
...Day vs night

The assets are made to integrate with Blender's asset browser, ensuring a smooth and intuitive experience.

All Assets can be used in EEVEE and Cycles.
Please Note:
- The assets are designed to provide a realistic appearance from a distance. they appear less detailed and realistic when observed up close. This tradeoff ensures high performance on a larger scale.
- The Geometry node setup can produce intersecting geometry depending on the offset and spacing settings.
- The buildings do not include interiors.
- This is NOT an addon but a geometry node setup and a collection of low poly assets. Please don't try to install the   .blend file. You can treat it as a regular blender project file.
Change Log

Update 1 - MedievalCityGenerator_v1.1 ( 19.07.23 )
 - Fixed Geometry ( all buildings can now be beveled )
 - Improved Tree Materials ( Added Tranlucency )
 - Due to issues with appending drivers, the brightness of the lanterns can only be adjusted in the "LanternLight_m" material (see image below) . The Brightness Input has been removed from the geometry node tree for now.







Update 2 - MedievalCityGenerator_v1.2 ( 27.07.23 )
 - The Geometry node setup now supports nearly perfect Uneven Terrein Adherence.
 - The Scatter buildings recieved a foundation protruding into the ground. This helps with the uneven terrain adherence. The origins of the buildings can be seen as their ground level.
 - Fixed Asset Browser not showing up.
 - Added 4 new buildings.


 - Added a Building Toggle.
 - Added a Walkway Normal Offset Slider to adjust the normal offset (necessary on uneven terrain like hills).
 - Added Target Surface Input for the node group. (select your ground plane here for terrain adherence)