Please Note:
requires a free registration on our site: 
What is Extreme PBR Nexus? 
Extreme PBR Nexus is a very powerful addon to manage thousands of materials. It's really quick and easy, and you can even paint and mix materials.There are currently almost 2000 Materials, in a library of almost 200GB. You can decide whether to install all of them or not. There are Materials up to from the minimum of ½k to a maximum of 8k
Lifetime free updates


Bye-bye to the big times to search and create a material
Now you can do it only with 1 click, With nearly 2000 Materials in the library.


Animated Water:
Finally a quick and easy water material, we have improved the water from the previous version, now it is much more realistic than the previous version.


---
Texture Paint between materials:
This system is very simple: Add Modules and mix them with the texture paint. Under each Module you can also add an Fx Layer

This is one of the gems featured in Extreme PBR Nexus


---
New Car Paint:
The Car Paint Material in Extreme PBR Nexus, has been improved a lot, is now really realistic. You can go from simple paint to metallic paint, complete with metallic flakes, just like in reality.
---
Mix materials on the Z axis

This new possibility makes all the materials of the library mixable and animable with each other.


---


Worn Edges:

With the new "FX Layer" system it is now also possible to create stressed edges in Cycles and also in Eevee.
---
Displace/Microdisplace always ready:

Displacement is always ready in all Texture based materials. Turn on and off whenever you want. Everything is based on the native non-destructive Blender technology (modifiers).
---
Fast and Easy:

The management of the almost 2000 Materials present is now really simple, we have also made it really easy to mix and paint the materials.
---
Simple and powerful control of Texture Paint between material modules:

This system is very simple: Add Modules and mix them with the texture paint. Under each Module you can also add an Fx Layer
---
Searching for materials with the Tag system is now simple:

Our users will be happy with this. Thanks to their suggestions, it is now very easy to search for materials
---
Create your scene:

A ready-to-use library with many materials that can be mixed, they can help your creativity a lot. In this scene we used a lot of displacement, and an animated water course featured in Extreme PBR
---
Subsurface always ready:



The subsurface (SSS) simulates the penetration into objects, such as plastic, rubber, human skin. This is now always ready to use in all textures based Extreme PBR materials
---
Surface Imperfections:

With the new Fx Layers system, imperfect surfaces are always ready for use.
---
Shader Maker Video:

With a few clicks you have your video ready in the material, created specifically to be always ready for use, cathodic effect always available.
---
Simple manipulation of the uv map:

The Mapping Menu, allows you to manipulate UV, Scale, Rotation and Slide maps on the X-Y (UV) axes on the fly. This is very useful for those who do architecture and interior design. We know how important it is to work visually.
---
Shader Overlay feature:

From version 4.0.200 released on 07/19/2022 it is possible to mix materials with the new "Shader Overlay" system that allows you to create an animable Gradient effect.
This new feature accepts any type of material. An "Invisible" material has also been added to create presentation animations such as "Cutting Plane". Take a look:
---
Your library is well sorted into material categories:

99 Well distinct categories that contain all materials, We have done an almost maniacal job of cataloging all the materials.
Really all well organized:
The material preview popup system can be resized at will, the material names can be shown or hidden. Everything is organized "maniacally"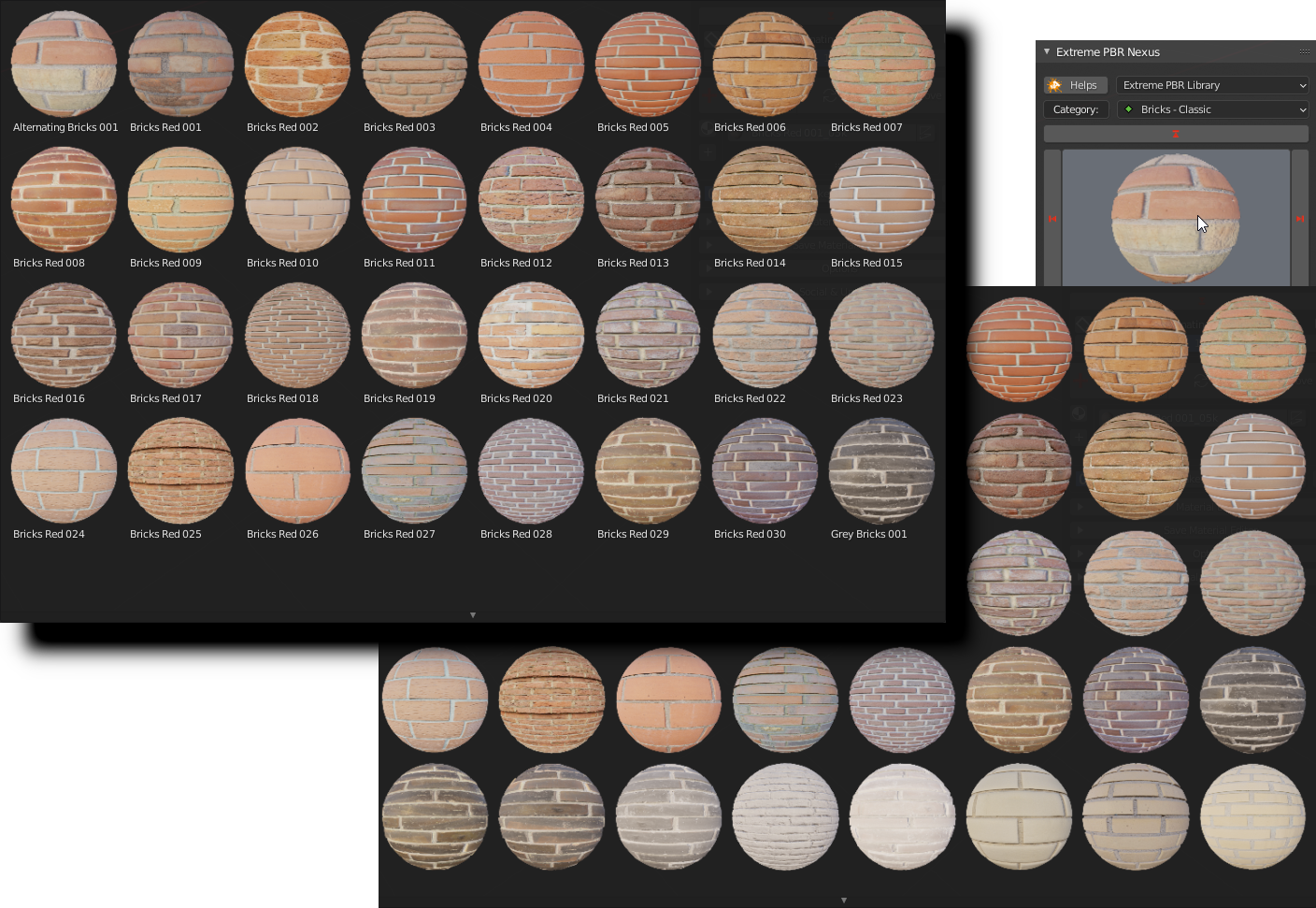 ---
Texture Manager:

The new "Texture Manager" menu allows you to easily change textures in real time, the search system makes it easy to search all maps in the library. You will also be able to change Image Color, and Mapping of each individual image. Really a great step forward.
---
More than 9000 people around the world use Extreme PBR!

We are happy to have achieved this small goal, we ourselves have more than 10 years of experience in 3D work and we are trying to solve the timing issues for professionals who always have a very fast delivery time restricted, every day we work on suggestions from our customers to bring improvements.
With this addon you will save a lot of time, we guarantee you 100%
---
Disk Requirements, You can decide whether to install everything or not:

1 GB = All Materials in 0,5k + Previews + Library file data
4 GB = All Materials in 1k
14 GB = All Materials in 2k
45 GB = Materials in 4k
124 GB = Materials 5 to 8k
Full Library = 185GB
---
We participate monthly in making donations for the Textures producers you see in Exreme PBR, but we think this is not enough, so if you would like to donate even just 1 coffee per month or 2 these are fantastic sites, with fantastic and professional guys!

If you have any questions contact us, we are very happy to answer!  If you have a problem and have read the instructions correctly, but cannot resolve, write us, if you have any suggestions, they are always welcome! Customer support is important